2Posted by Robert-Jan Broer on Mar 18, 2006
Today I bought the Le Mans DVD, with Steve McQueen. This is the movie where the Heuer Monaco was put on the horological map
Heuer even produced a version of the Monaco with the colors (red/white/blue) of his racing suit. A while back I posted about a clothing brand called Vintage 55, who makes 'replicas' of his racing clothes.
Anyway, for 10 USD you are the man. You can make your own 'stills' with this DVD of the Heuer Monaco. Btw, I recall that Steve McQueen was an avid Rolex Explorer wearer. You might want to verify in which movie this is though…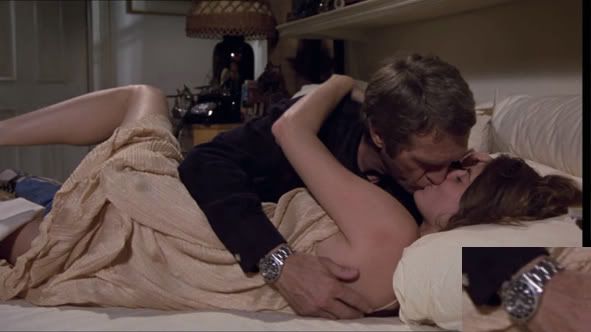 While I am at it anyway, you might want to order this one as well. This is the movie called Winning, where Paul Newman wears his Daytona. Or not. That still seems to be the question. Anyway, since then… Rolex has a vintage Daytona called 'Paul Newman' or just 'PN' that has an incredible cult status with dito price tag.
John E Brozek (of the famous book on how to identify genuine Rolexes) spoke to Paul Newman and wrote a small essay on it.
"First, let me say that I have viewed Winning on numerous occasions, and while he does wear a stainless steel chronograph in nearly every scene, the watch is never shown clear enough to positively identify the brand or model. Furthermore, the face appears to be silver and the trademark contrasting registers are not identifiable.
After inspecting a number of the promotional movie posters and lobby cards for the film, they too fail to positively identify the watch as a Daytona. Thus, it is unlikely that the general public would confuse it with a Daytona.
When I asked Mr. Newman about these theories, he stated that he was unaware of how his name became attached to the watch, and he didn't recall even wearing a Daytona in Winning. Furthermore, he stated that his first Daytona, and the one he currently wears, was given to him by his wife in 1972, the same year he started his professional racing career. It is worth mentioning that the aforementioned watch is not a Paul Newman (exotic dial) model at all, but rather appears to be a Daytona (model 6263), with black dial and white registers."
Read the full article by clicking here!