3Posted by Robert-Jan Broer on Nov 30, 2011Tags: Diver, LM-5, LM-7, Ocean7, PloProf, Review
To be honest, until recently Ocean7 wasn't brand that had watch models that I could mention from the top of my head, except for the LM-7. The Ocean7 LM-7 has probably been the watch model that people will know this brand for, it is a homage to dive watch watches of the 1970s according to the official Ocean7 website. People will immediately recognize the LM-7 being a homage to the famous OMEGA Seamaster Plo-Prof of course. To be honest, Ocean7 did a pretty good job in creating an alternative for the vintage OMEGA Seamaster Plo-prof. This was in the period before OMEGA re-introduced their own homage to this watch a few years ago with their new in-house caliber 8500 movement.
Anyway, Ocean7 is a brand that I'd like to call an 'internet community' watch brand. There are more brands like this, like Sinn, Tutima, Xetum and a lot of others. It is a brand that is being carried on the hands of watch connoisseurs who are active on forums and blogs and like to attend watch meetings to discuss their favorite watches. The largest watch community website, Watchuseek, has the official Ocean7 forum and owners and prospect buyers are showing their love and enthusiasm for this brand.
I got the opportunity to review the LM-5 dive watch by Ocean7, one of their more recent models and Ocean7 even claims it to be the world's most beautiful diver. Beauty is in the eye of the beholder, but there isn't much you can't like about this particular model. It reminds us about one of the high-end diving timepieces by Blancpain, the Fifty Fathoms, which is indeed one of the most beautiful divers in the world according to many. Ocean7 is actually being quite honest about their styling cues used for their watches, hence this LM-5 design and the design of the earlier mentioned LM-7 Plo-Prof.
One of the things that the official Ocean7 website doesn't say, but what I want to mention here, is that this proofs again that a nice and "good quality" watch doesn't need to be that expensive. A lot of people have other priorities for their saving money but do want to own a quality timepiece. In my opinion, Ocean7 jumped into this market with quality mechanical watches for a decent price.
 On to the watch review. First of all, I would like to note that I am not a talented photographer like my colleague Ming Thein is. The sapphire crystal and the high polished watch case makes this a beautiful timepiece, but very difficult to photograph without all the reflections in the dial and case, as you can see below.
As you can see, the watch has quite some detail. The bezel with large luminous Arabic numerals has a sapphire crystal inlay really stands out. The corresponding numerals on the glossy black dial makes it a very readable watch. There is only Ocean7 wording on the dial, no other referrals to the model type, type of movement that has been used or the water resistance level. Only the stainless steel case back reveals the make and model of this watch, together with the fact that it is water resistant to 200 meters / 20 atm. The dial has a small date aperture between 4 and 5 o'clock, Ocean7 luckily used a black date wheel to have the whole date feature blend in perfectly with the rest of the watch.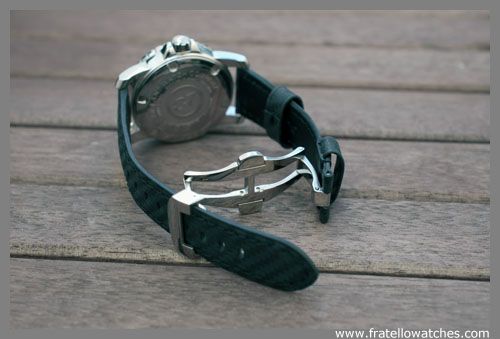 The watch comes with either a 3D carbon leather strap, a stainless steel mesh bracelet (+ $199.- USD) or both (+ $269.- USD). The leather strap is referred to as 3D carbon because of the structure of the strap. It happens to be a very soft and comfortable strap, but I think I would prefer either the mesh bracelet or a black alligator strap. I know, very undive-ish, but I think I would like the look of it. The strap comes with a solid working double deployant clasp, also known as the 'Cartier'-clasp or butterfly-clasp. It works very simple but effective, first you close one side of the clasp, then the second part and press till it clicks. Secured. The clasp is being released again by pressing the two buttons.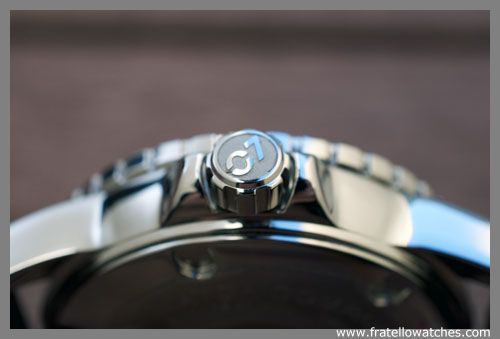 Ocean7 paid a lot attention to the details of this watch, as you can see on the picture above regarding the winding crown. The crown is easy to grasp and has been finished with the engraving of the company's O7 logo. The diving bezel is unidirectional, like a bezel of a diver's watch should be of course. The bezel is easy to operate, a tad bit heavy to turn but with firm clicks. There is almost no play in the bezel, which is giving me a comfortable feeling about the quality of the mechanism.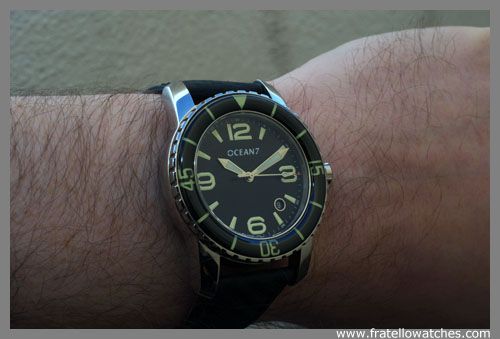 All-in-all, the LM-5 an attractive no nonsense watch that gives value for money and makes me hungry to learn more about that big fat LM-7 Plo-prof model they have in their collection as well. For only $899.- USD, the LM-5 is honestly priced and even with the optional choices like the mesh bracelet and COSC certified movement (+ $399.- USD) this watch is still far cheaper than a lot of other diving watches of similar quality. Personally, I would skip the COSC movement and go for the mesh bracelet option instead.
Although I am not sure what type of movement's in side the COSC model, this model has the ETA 2824-2 movement. Like a diesel engine that has been seen in a lot of other watch brands as well, including Longines, Breitling and so on. Mind you, that the finish of this ETA movement probably differs from the ETA movement used in the more expensive brands.
Aren't their any cons? Of course, there are some. Like I already mentioned, the one-side anti-reflective coating makes it a bit shiny in combination with the glossy dial. On the other hand, the only time this bothered me was when I was trying to take pictures of the watch. I also am not a fan of these type of straps, but that's a matter of taste in my opinion.
One of the things I didn't mention yet, is the domed sapphire crystal of which the surface is below the sapphire bezel. This means that if you put the watch on its top (i.e. on the bezel), the crystal doesn't touch the surface of the desk or table you put it on and won't scratch or damage (although I know sapphire is hard to scratch, it's the idea that I like).
Specifications:
Swiss Made
Polished Steel Case
Swiss Automatic Movement
42 mm diameter
13mm height
Swiss Super-LumiNova Dial Markers and Hands
Domed Sapphire Crystal With Inside Anti-Reflective Coating
Domed Sapphire Bezel Insert, Fully Illuminated
Water Resistance – 20atm/600ft
22mm Lug Spacing
Screw Down Crown
Unidirectional 120 Click Bezel
3D Carbon Leather Pattern Sport Strap with Double Deployant Pushbutton Release Buckle
Optional German Matching Mesh Milanaise Bracelet with engraved OCEAN7 Logo
Optional COSC Chronometer Grade Movement
Ocean7 sells their watches directly via their webshop at www.ocean7watchco.com. Their official forum is located over at Watchuseek and you can also become a member of their Facebook page.