6Posted by Robert-Jan Broer on Jun 27, 2005
Although I doubt that there was someone there from Luxembourg at the meeting, it was a great event!! Organized by Maurits and Mr. Orange (Ilya) in Antwerp. The meeting took place at brasserie Appelmans which is located in the center of Antwerp.
Mr. Orange kicked off with a nice welcome and handed over the imaginary microphone to Hans Dekkers, distributor of Panerai in the Benelux.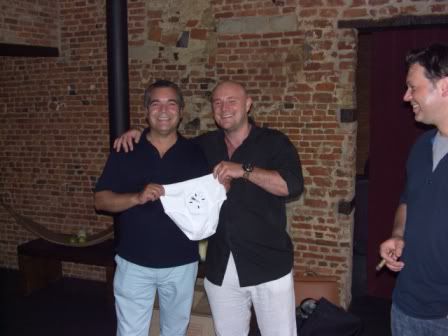 Hans Dekkers receiving the special Paneristi gift from Mr.Orange & Maurits.
Hans showed several new watches and told us what to expect from Panerai this year (soon). All (+/-) 25 attendees received the 2005 catalogue, a Panerai cap and a leaflet from the adventure of Mike Horn & Panerai (Arktos). After some drinks, chats and glances at a Panerai DVD presentation, we went to Slaets to see some more Panerais. We got a warm welcome by them, including a bag with some goodies and a glass of champagne.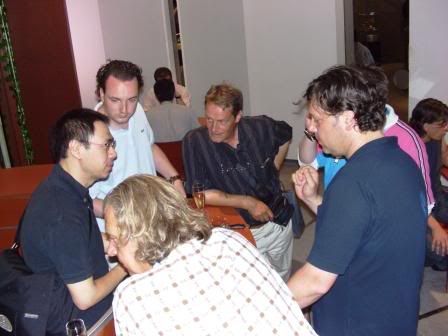 A few Paneristi (including yours truly) at Slaets.
After this short 'break' we returned to brasserie Appelmans for a great diner! At the end of the diner everyone received a Paneristi poster signed by every attendee.
I learned a lot from fellow Paneristi on historic models and had some great discussions on Panerai watches and the way they are heading now. One thing I noticed was that most guys didn't care much for the new variations by Panerai. I have said it before on the blog, but I will do it again… I really think watch manufacturers should be cautious producing all kinds of variants on watches. When people buy a limited edition model Arktos for example and after a while start producing (common series) Arktos GMT models, what's the added value of owning the limited edition in the first place, and second… people will get tired of too much models looking very similair. Personally, I think Panerai should keep it down to just a few models and variations. Before I will rant too long and refer too much to the good ol' Rolex way of producing variations :-), I will get back to the meeting. Another thing I noticed, is that there is only small interest in the movement itself. Although Panerai comes out with their own inhouse movement, and have used JaegerLeCoultre, Rolex and Zenith movements in the past&current, I could only discover a few talks about movements. It just has to be mechanical and finished nicely I guess. To be honest, that's all I am looking for in Panerai watches as well. The case design, dial, straps, buckles, crown mechanism triggers is more interesting to me as well on Panerai.
All together, a great and well organized event and I hope I will bring a new/other Panerai with me next time. I have some new and better ideas on my next Panerai, thanks to Jon, Maurits and a few others.
All photos used in this post by P@trick@Belgium.
More pictures and details on the Panerai meeting here.