10Posted by Robert-Jan Broer on Jul 09, 2008
As promised (to Martijn, see the comments of the GP post below), I hereby post a few pictures of a watch that I bought a few months ago, from a fellow Dutch collector. It is a Titus Geneve chronograph from the 1940s (ca.1946-1948) with a Landeron 48 handwound movement. It is a 38mm watch, which was quite big for those days, in a 18ct red gold case. The case is very light and has a metal 'ring' inside, to make the thin 18kt red gold case a bit of solid. I was told that these watches were quite populair for US ex-soldiers from WWII to bring home, because these were one of the few gold watches allowed for them to import. I am not sure, but I think there were some kind of restrictions for the import of gold items. The Landeron caliber 48 (31mm) is produced between 1937 and 1970, ticks at 18000 beats per hour, has 17 jewels and a power reserve of 44 hours. Another brand from that era which produced quite similar watches was Chronographe Suisse. This brand was brought back to life just recently.
Anyway, I bought this watch because I was eager to try out a red gold (chronograph) watch. I always feel that I am a bit too young (and pale) to wear gold watches, but this one is really fun to wear with a nice shirt or suit. These type of watches can be bought for relatively little money, I think I paid between 250 and 300 euro for this example (including a new Officine Italia Bros strap).
During my 'research' on chronographs from the 1940s/1950s, I came across this interesting French site about chronographs. Make sure to visit if you are interested in these vintage beauties as well. http://monsite.wanadoo.fr/chronotictac/page5.html
I took three pictures to satisfy Martijn I hope I was able to capture its 'modest' beauty in these pictures. The black 'aged' dial with gold printing is really nice IRL, a good picture was hard to take with all these reflections in the plastic crystal.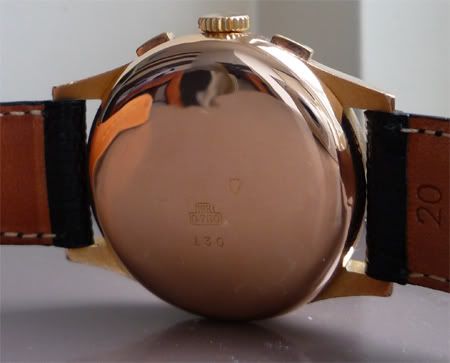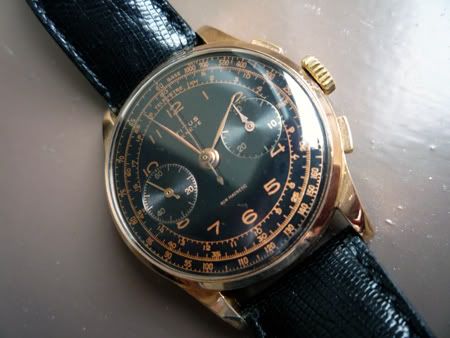 The watch has a small dent in one of the lugs. Like I wrote above, the material is quite thin and this dent was probably caused by bumping into something or it was dropped on one of the lugs. The crown is in doubl?ɬ© or plaque and a bit too yellowish. Perhaps I will put on a 18ct red gold crown in the future, if I can find one cheap. The watch runs acceptable, but I wouldn't wear it for days in a row, because the deviation will become too annoying.
The looks of the watch at least convinced me to get myself (or as a present :)) a nice red gold modern chronograph in the far future.