0Posted by Robert-Jan Broer on Dec 15, 2008Tags: Explorer
The German R-L-X forum has this populair 'Welche Rolex habt Ihr im Moment am Arm?'-topic. You don't have to understand German to know what it says I guess. The most exotic Rolex watches come along in this thread, as can be seen below. One of my favorite vintage Rolexes is the Explorer II, a.k.a Steve McQueen Rolex, a.k.a 'Freccione'. I don't recall seeing Steve McQueen wearing this watch (he did wear a Rolex Submariner though), so I don't know why this watch is being called the 'Steve McQueen' Rolex anyway.
Anyway, the ref.1655 Explorer II I found in this thread is a handsome looking watch and I really could live with this vintage time piece if it wasn't for these crazy prices they are asking.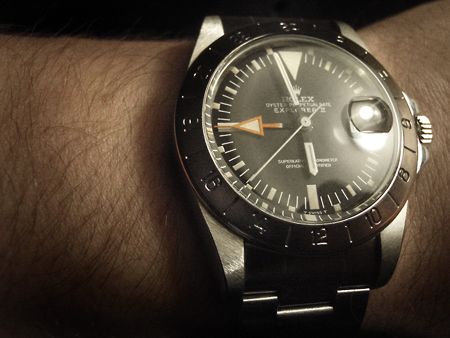 Even though I don't like posting pictures of hairy wristshots, I thought I would like to make an exception for this magnificent 'Freccione'.