5Posted by Robert-Jan Broer on Apr 03, 2009Tags: Basel, BaselWorld 2009, Monaco, Steve McQueen
One of the big bummers of the BaselWorld 2009 show was that I was unable to take a closer look at TAG Heuer's new watches. The gigantic booth had this display in front of it, with both the old Monaco (1133) (it was the actual watch that Steve McQueen wore in Le Mans) and the new 40th anniversary Monaco.
The girl (a rented promo model with a cool leather TAG Heuer 'Gulf' jacket) couldn't allow us to go inside the booth to make some decent pictures and she was also told NOT to give any press kits to the press (I had a press card via Perpetuelle).
I wonder if that's really the policy, since TAG Heuer at least floods my mailbox with ALL of their new releases and celebrity news. Anyway, since there was no oppurtunity to take a decent shot of the wristwatch, I can only offer you the official TAG Heuer press photo.
The re-edition looks quite nice, and TAG Heuer finally understood that they should have the winding crown on the left side. Like the original. Now for the poor stuff… the watch has 'in tribute to Steve McQueen' engraved on the backside. I think most of us know that Steve McQueen wore a Rolex Submariner most of the time, and that he only used this watch (and appearantly returned it afterwards) for the Le Mans movie.
Anyway, TAG Heuer is probably aware of this and decided to make only 1000 pieces of them. The price, is approx 6000 Euro. There is nothing wrong with a nice TAG Heuer watch, but 6K seems a bit too optimistic. The vintage Monaco ref.1133 is a nicer buy in my opinion, it is at least the real deal (if you are a Steve McQueen / LeMans fan) and can be found between 4250 euro and 5900 Euro currently (on Chrono24), with orginal box and bracelet.
Again, there is nothing much wrong with the watch itself, only the chronograph pushers are different when you give the watch a first glance, but the price and the engraving would make me buy Das Original!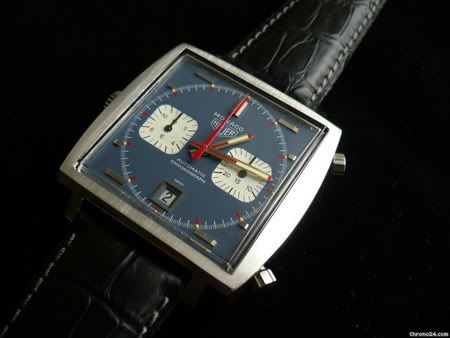 Now, how can I remove myself from their mailing list…