6Posted by Robert-Jan Broer on May 15, 2009Tags: Bargain, Enamel, Sterling Silver
Besides his work as interior and furniture designer, Robert Lighton also created a few wrist watches by the names of Hudson, Empire, San Remo, Algonquin and a few more. Mechanical watches with stainless steel, sterling silver or gold cases, most of them with an ETA (mechanical) movement. A few years back these babies sold for over 2600 USD, but you can get them now for as low as 695 USD! Robert Lighton New York is having a close out sale, and if I may say so, you really will have a bargain when buying one of these original beauties. Below, a stainless steel Empire model is pictured.
My mother has been wearing her Hudson in sterling silver for over years now, and the cushion shaped case of the watch is getting prettier as it is aging… The enamel dial, blued hands and sterling silver case will make you almost think this is a vintage watch. The Hudson is available in either 34mm or 38mm, both reduced from approx 3.000 USD to 795 USD. This is really stunning, if you want to buy yourself or someone else a nice gift, consider one of these sterling silver watches. These watches have a Soprod movement with gilded C?ɬ¥tes de Geneve decoration and blued screws, a sapphire crystal and a really nice alligator strap (not print!). From her small collection of watches (Omega, JLC and this Hudson), this one definately gets most wrist time.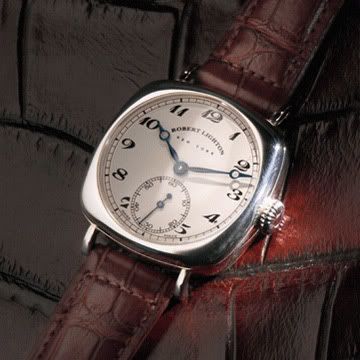 Actually, I think that these discounted watches are one of the nicer finds in the Fratello career (since July 2004). I know about these watches for quite some years now, as Horloge Platform Nederland had them in their collection a few years back and my mother has one of them, I can really say that these time pieces are very well crafted and if you don't care about a big brand name on the dial, this is definately the way to go if you are into these type of watches.
Visit the Robert Lighton New York Watches website, to get an overview of all their watches on sale.