4Posted by Robert-Jan Broer on May 19, 2009Tags: Antiquorum, Frank Sinatra, Monaco, Steve McQueen, Submariner
On the 11th of June, Antiquorum is auctioning Timepieces from Twentieth Century Icons. This auction includes some stuff that belonged to Steve McQueen. Besides the actual watch that Steve McQueen wore in the Le Mans movie, the Heuer Monaco (ref.1133), Antiquorum is also auctioning his Von Dutch motorcycle (what has this to do with timepieces you may ask? I don't know. It has to do with money probably.) and a Rolex Submariner 5512 that was given to Jimmy Brucker, early 1980. I don't know if it is the actual watch that has been spotted on the wrist of Steve McQueen several times, or that it is just a similar model. Chad McQueen, Steve's son, has been spotted wearing a similar Submariner as well. Who knows.
Antiquorum estimates that the Heuer Monaco between 10.000 USD and 20.000 USD. Same goes for the Rolex Submariner 5512. I think both estimates are a bit low to be honest, especially when it is proven that Steve McQueen actually wore this Submariner in his private life as well. The Heuer Monaco was given away after the movie, as soon as he hit the way back home. So far for Steve's loyalty to the Heuer Monaco. Who's to blame? Certainly not Steve McQueen, but this is once again showing the sad marketing by TAG Heuer of milking out the use of their watch in a movie. And let's be honest now, this movie isn't that great either, except for the nice scenery.
Anyway, well informed sources over at 'Das Rolex Forum' said that the dial has been replaced at some point during the watch's lifetime. The watch is obviously polished a few times as well. However, that doesn't count, when someone (which I think should be Antiquorum's role) can prove that Steve McQueen actually did wear this particular watch.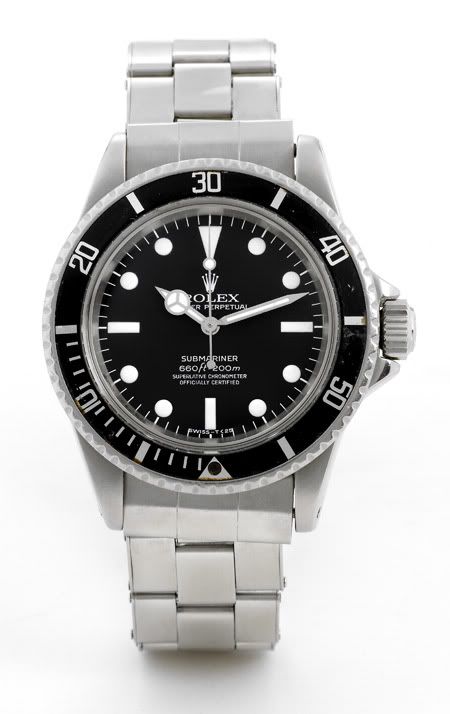 Other timepieces in this auction are a gold Cartier Pasha with quartz movement, given to Sammy Davis Jr. by his friend Frank Sinatra, also in 1980.?Ǭ† Estimated price is between 10.000 USD and 20.000 USD. It seems to me that the 'experts' over at Antiquorum have an easy job, or are just lazy. Then there are these Gruen and Movado watches. The Gruen was a gift from Frank Sinatra to a friend of his, Al Silvani. Frank seemed to enjoy giving away timepieces. The Movado was a gift to President Roosevelt, by his son-in-law, for his 63rd birthday in 1945. This watch is estimated at 50.000 USD to 60.000 USD.
Want to see the other object for sale? Have a go at http://www.antiquorum.com/eng/press/2009/209106/juneny09auction.html.