1Posted by Robert-Jan Broer on Jun 07, 2009Tags: Offtopic, Yacht-Master II
Roger Federer won the French Open and got his 14th grand slam title. As soon as he received the Coupe des Mousquetaires from Andre Agassi, people over at the online watch community websites started guessing which watch he was wearing.
Although Rolex advertizes with Roger Federer wearing either a Rolex Daytona in white gold or an all gold Rolex GMT-Master II (he probably has all models anyway :)), Roger is wearing a Rolex Yacht-Master II.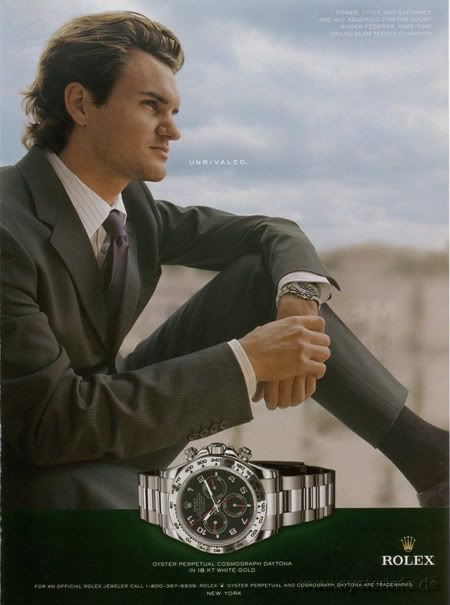 Elmar of Oysterinfo.de has an incredibly large collection of original Rolex advertizements (vintage and modern), including this one of Roger Federer and his white gold Daytona. You can see it's white gold due to the dial. The stainless steel versions have no Arabic numerals and no red hands. There are some more subtle differences, but these are the main ones. Of course, if you are an expert in metals, you probably noticed right away that the one in the picture is made out of white gold (as the advert states it is).
Anyhows, below is a picture of a YMII by Hannes/JBK, the subdial on 6 o'clock clearly demonstrates that this watch is the same as the one Roger Federer is wearing on the first photo.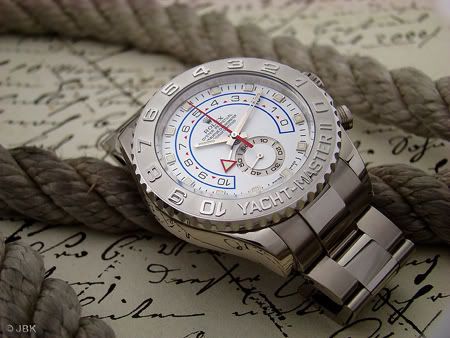 Michael over at the Dutch Rolex Forum spotted a gold Rolex Day-Date on the wrist of Roger's wife, Mirka Federer.