6Posted by Robert-Jan Broer on Jul 15, 2009Tags: GMT-Master, Vintage
Since my Rolex Yacht-Master had to leave my modest collection of watches to make way for an Audemars Piguet Royal Oak, I am left with some typical sporty Rolexes. Although I love my GMT-Master II and Sea-Dweller in stainless steel, the high polish and platinum effect of the Yacht-Master is definately being missed. So, after I finished my work today, I started looking around on the internet for a decent replacement in the (far) future.
Approximately 4500 euro will buy me a slightly used Yacht-Master ref.16622 again, however, this money also gives some nice alternatives that also might do the trick for me.
A steel/gold combination for a sports watch is considered not-done by many, but I don't care and I think it can look wonderful in both casual and more formal occasions. I borrowed a gold/steel Rolex Submariner ref.16613 for a while, and the blue dial was coming on too strong for me. Another option I just found at SubGMT's website, is a gold/steel GMT-Master. This vintage (1983) time piece has a 4400 euro price tag, but comes complete with box, booklets and papers.
During the 1980s, these gold/steel Rolex sports watches were the domain of shady types, doing questionable business in strange places. Miami Vice, white loafers and Mercedes S-class cars come to mind as I think of shady 1980 type of people.
Photo by www.mercedes-addict.co.uk
This sharp edged GMT-Master 16753 model has (ofcourse) a plexy crystal and the so called nipple dial. The ref.16753 is nowadays a respected vintage wrist watch that can be seen on wrists again, without being referred to as a crime suspect. This particular model has a gold/steel Jubilee bracelet, which is a matter of liking, but one can't deny that this is the most comfortable bracelet Rolex has ever made. Perhaps I would opt for a gold/steel Oyster bracelet or even a brown leather alligator strap, but this Jubilee certainly 'finishes the job'.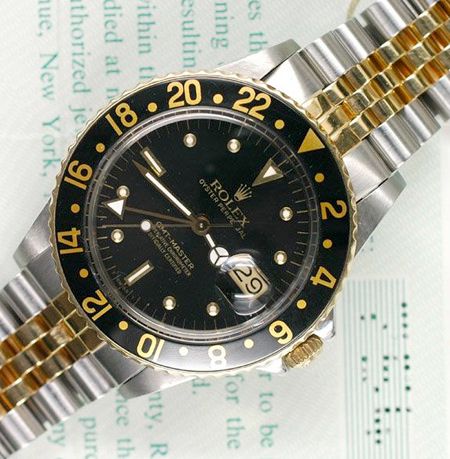 Photo by SubGMT.com
Like I said, the edges on the lugs are still in tact, and even though this watch has been serviced a few times during its lifetime (as it should), it is still looking sharp.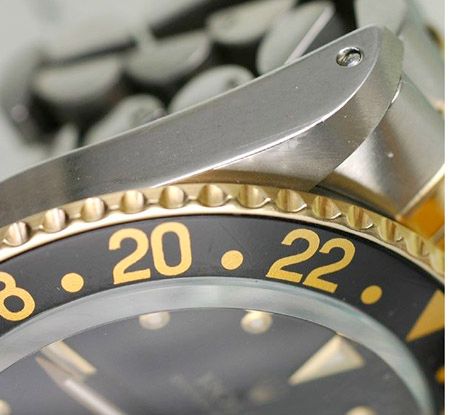 Photo by SubGMT.com
I really like the gold printing on the bezel and the relatively large numbers on it. Also notice the 'open' 9 on the date-wheel and the fact that the date-wheel is gold colored instead of white.
What do you think? Am I right about the gold/steel sports watch? Please leave your thoughts by clicking 'comments' below.