12Posted by Robert-Jan Broer on Sep 07, 2009Tags: App, iPhone, Uhren Magazin
I bought a few German watch magazines in M?ɬºnchen last week, and in the latest Uhren Magazin there was a full-size page ad about their Uhren Katalog for Apple's iPhone. Once I got home (I switched off the data mode since it is very expensive to use in foreign countries), I immediately checked out the Uhren Katalog application in the AppStore.
Now, there is a fee version called Uhren Katalog Lite and a full version for 6,99 Euro (as pictured below). I first tried the Lite version ofcourse (hey, I am Dutch) and it is exactly as it should be in my opinion. Fast, quite complete and easy to use. Since I am buying loads of magazines anyway, I quickly downloaded the full version: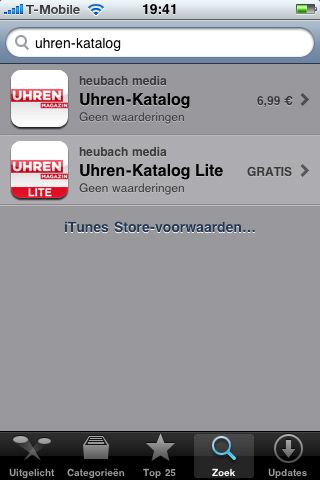 Unfortunately, the application is only in German, but very easy to use. I actually don't think this should be a problem for the non-German speaking (reading) watch fans. Besides that, as an avid watch fan, you should be able to read at least a few words in German
You can either browse through the catalogue on brands (Hersteller), on price (Preis, duh) or you can search for a brand (Suchen). See below for a small part of Audemars Piguet's watches in the Uhren Katalog. The application offers more watches from AP ofcourse, but not the full catalogue of AP. However, the annual catalogues on paper also only have a selection of watches per brand.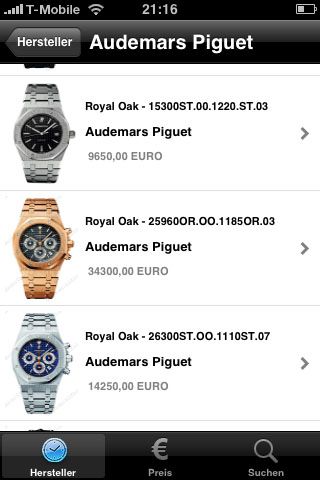 When you select a watch (just tap one), you will get to see a picture of that particular watch, as shown below in the screendump I made after selecting a Porsche Design model. If you tab the "i" on the screen, you will see the specifications/data of the selected wrist watch (see below).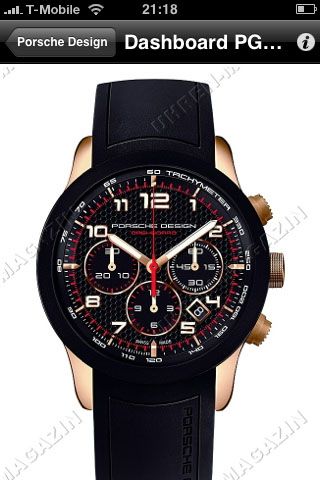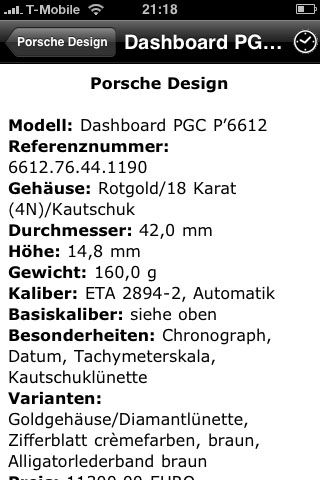 As you can see in the above listed specifications, it contains all the useful information needed. The price just fell off the page when making a screendump, but it is all there
Among the huge number of (mostly useless) iPhone applications I have, this one really rocks. The Uhren Katalog app contains over 1000 watches. It is well worth the 6.99 Euro and I suggest you started downloading it immediately after reading this. IF you have an iPhone that is.