0Posted by Robert-Jan Broer on Nov 16, 2009Tags: Deep Sea, Piccard, Sea-Dweller
More than half a year ago, I posted this blog about the Rolex Sea-Dweller Deep Sea Jacques Piccard edition, a Dutch initiative from Philipp Stahl (Steiner) and Jerrel Manbodh (Manbodh Watches). Just today, Christie's had one of the 86 pieces on auction, number 60 of 86. When still available, these watches changed owner for 12.900 Euro. The official Rolex Sea-Dweller Deep Sea Jacques Piccard website is www.singlereddeepsea.com, which is still on-line and contains some more background information regarding these watches.
Number 60/86 is not a coincidence…?Ǭ† Number 60 stands for the successful deep sea diving mission in 1960 and 86 is the age of Jacques Piccard, who passed away last year. The auctioned watch includes an original US Navy envelope, stamped in 1960 and signed by Jacques Piccard himself.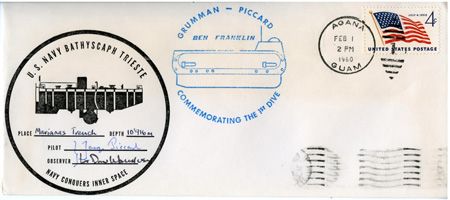 The fetched 39.526 USD (or 40.000 CHF) will be used by the Piccard family to be able to document and maintain all archives by Jacques Piccard.
Information about the auction can be found here.