5Posted by Robert-Jan Broer on Dec 14, 2009Tags: Elin Nordegren, Tiger Woods
Tiger Woods, a golf pro hero that sees his career end-up in pieces in just a few weeks, only because he doesn't live up to the high standard of being a role model for every kid in the US who wants to achieve something. Who cares what he does in his private life? He didn't kill anyone, didn't steal.. The hypocrisy of the ones who judge and dropped him is unbelievable imho. I think golf pro Nick Faldo had the same sort of problems in the past (early 1980s) and he recovered quite okay-ish. Anyway, just like his sponsor TAG Heuer, Tiger saw his name/image going down rather quickly due to some bad Public Relations/Communication.
I hope that TAG Heuer at least has the decency not to drop him like some of the other sponsors did. Woods remains a great ambassador for their sports watches, simply due to the fact that he is a great sportsman. Currently, TAG Heuer promotes their Golf watch using Tiger Woods as ambassador. In real life, it seems that Tiger choses the TAG Heuer Link Chronograph.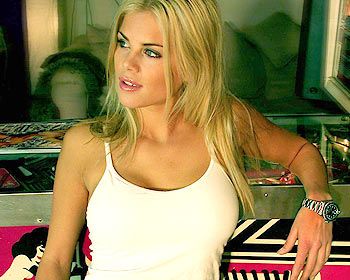 His wife (and former model) Elin Nordegren seems to have a nice taste in watches as well. The popular German Rolex Forum (R-L-X.DE) spotted her wearing a Rolex sportswatch (looks like a Submariner), as you can see below. You can find a lot of other famous people wearing Rolex in the R-L-X thread here, or visit Jake's Rolex blog.