3Posted by Robert-Jan Broer on Dec 21, 2009Tags: Cosmograph, Daytona, Tropical dial
During the last few days, we encountered some heavy snowfall here in The Netherlands. As you can see below, 'my street' became all white last sunday.
Therefore, Bernhard of the 100% Rolex blog posted some incredible nice photographs of Rolex sports watches with so called tropical dials. According to Bernhard, these 1960s dials have probably been painted with a mixture of colours to get a deep black dial. The mixture probably included some brown that comes to the surface after the other colours faded away through UV (or perhaps a bit of moisture, who knows).
In his most recent post, Bernhard shows a few Rolex models (among them is the Cosmograph pictured below) with a tropical dial. Although the vintage Cosmographs (and Daytonas) are a bit too small for my wrist (as they are 36mm), I really love them a lot.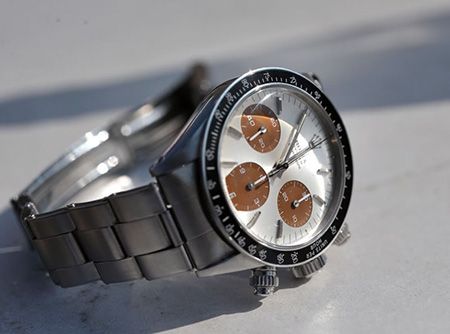 Brown dials are hot and I must admit that I always liked the brown dialed Rolex chronograph models, including the later Rolex Cosmograph Daytona ref.16520 'compax marrone' or 'Patrizzi' with its brown subdial rings.
The (handwound) chronograph movements that Rolex used in those days were far before they started using their own movements, or even the Zenith movements ofcourse. In the 1960s, 1970s and 1980s, Rolex used the Valjoux 72 movement as a base caliber for their own Rolex caliber 727 movements. Below you see a close up of the Rolex Cosmograph movement, used for an interesting article on the WatchProSite. The photograph has been taken by A.Shear.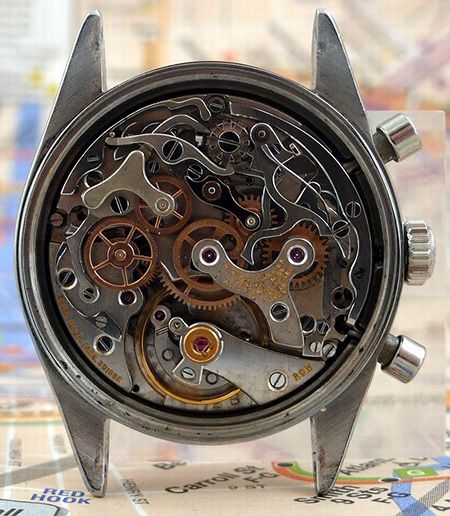 This Valjoux 72 handwound chronograph caliber with a column wheel mechanism was used by numerous other brands, such as Heuer, Girard-Perregaux, Wakman, Wittnauer etc. However, and maybe I am falsely informed, but my guess is that most vintage Rolex collectors (same goes for Panerai for example) are not very interested in the mechanics inside their wrist watches, but it's more about aesthetics. But please, if you are on the look out for a beautiful vintage Rolex, make sure the movement inside is in good running condition. Do not focus on optical problems only.
Please visit Bernhard's 100% Rolex blog for more interesting information on these vintage beauties.