6Posted by Robert-Jan Broer on Feb 20, 2010Tags: Orient, Power Reserve
When I started buying mechanical watches about 10-11 years ago, there wasn't much on the market (new) that I could afford. Last few years, this has changed drastically. One of the brands that offers mechanical watches for a decent price (for starters in collecting mechanical watches for example) is Orient. Orient is a Japanese watch company that exists for over 50 years and has a production run of 2 million watches per year. They are promoting themselves heavily on the web and are now also available in the US and Europe! Actually, before I got this Orient CFH01001B from OrientWatchUSA to give my opinion, I didn't even know that a jeweller in my neighbourhood (I think it's only 75 meters from my house :-)) is an Orient dealer.
The Orient mechanical watches are in the 120 – 825 USD price range, which makes them very attractive for collectors with a budget. However, since there are more mechanical watches available in this price range (like Swatch, Seiko 5 etc) I wondered how Orient would hold up. The CFH01001B I received belongs to their line of Power Reserve watches, a cool complication that – besides chronographs, extra timezones and moonphases – I really like in a mechanical timepiece. One of my first remarks was that Orient should give their watches names or at least easy to remember reference numbers. What is CFH01001B about? I am not going to bother you with the translation table Orient has on-line, I just think they should come up with decent names or reference numbers. However, according to their own company blog, they acknowledged this issue already and are working on it.
This Power Reserve CFH01001B model came in a simple but very acceptable watch box, with enough links in the bracelet to easily fit a tall guy's wrists. The skeleton dial reveals the balance of the automatic movement, which looks very nice with its polished parts. When I turned the crown a few times, nothing happened. It seems that you really need to shake it in order to have the rotor winding the movement. This actually took a while before the hand of the power reserve sub dial pointed to the '40' (since it has a maximum of 40 hours power reserve).
The skeletonized dial of the watch is very attractive with its applied polished arrow shaped numerals, Orient logo and smaller sub dial including the seconds hand and power reserve complication. The 38mm polished case fits nicely on my 7.5″ wrists and the open part of the dial is nice to look at from different angles, so you can see some parts of the mechanical movement (see one of the pictures below).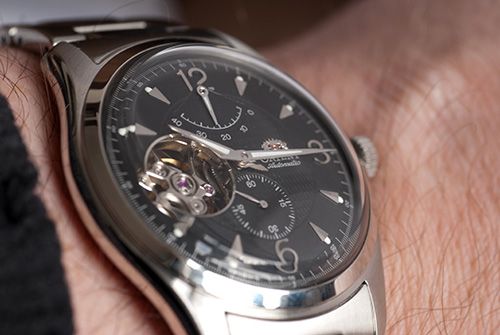 The domed mineral crystal gives the watch a nice look (although it makes it hard to photograph :)) and it even magnify the dial a bit from certain angles, like the plastic domed crystal on the Speedmaster Professional by Omega. The Orient has a transparent case back, that enabled the owner to take a glance at the movement every now and then. I tested the Orient on a Witschi timing device (a similar one to the Watch Expert III pictured below) and I was amazed by the positive numbers it generated. The deviation was very acceptable (avg of +/- 10 seconds deviation per day) for a watch in this price range and perhaps it will run even smoother after its break-in period.
With a price tag of 425 USD (currently being discounted with 30% on OrientWatchUSA) it is a very decent watch. However, as with all watches there are some things that could have been done better or at least in a different manner. The bracelet for example, is a bit too sporty for a watch like this in my opinion. I would prefer to have a watch like this with a more delicate bracelet or with a leather strap. I didn't change the bracelet for a strap, since it is not my watch, but I am pretty sure I would like it better. The bracelet also doesn't physically fit the watch very well, there is a bit too much play between the end-pieces and the watch case.
To sum things up, here are the pros and cons about the Orient Power Reserve CFH01001B:
Pro:
– price tag: a 425 USD watch with 30% discount;
– water resistant to 50 meters;
– accurate mechanical movement with power-reserve complication;
– transparent case back;
Con:
– winding only by rotor movement, no manual winding;
– bracelet does not fit the watch;