1Posted by Robert-Jan Broer on Mar 16, 2010Tags: Grande Complication, Ingenieur, Portuguese, Yacht-Club
Last week, on the 8th of March, I attended the IWC show at Ace & Dik (AceJewelers.com) in Amsterdam. I was particularly interested in the new Portuguese with the dial of the red gold version and – of course – the new IWC Yacht-Club.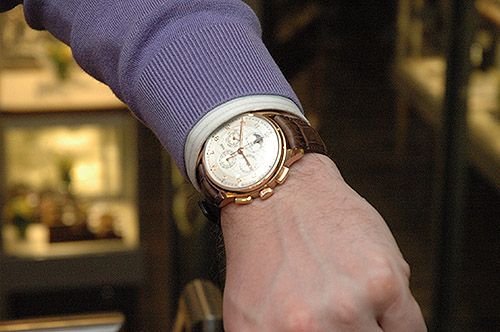 One of the most interesting timepieces was the IWC Portuguese Grande Complication, as pictured above (and below). This flagship of the Portuguese collection (with reference number 3774) is a stunning time piece limited to only 50 pieces per year. This 45mm diameter automatic winding watch has a number of very cool features, like a chronograph, perpetual calendar with with displays for the day, date, month, year (in 4 digits) and perpetual moon phase. And last not but certainly not least, a minute re-peater (see below).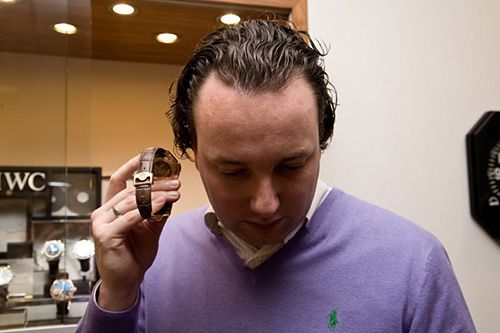 I am testing the minute re-peater here. Conclusion: Works as designed. Price tag on this Grande Complication, +/- 170.000 Euro. The other perpetual calendars in the Portuguese family are pictured below, one in a stunning blue dial. However, I really am into the gold Portuguese perpetual calendar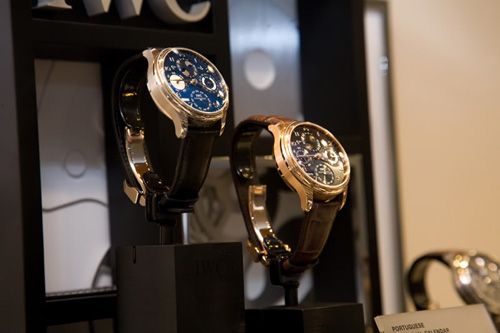 Other watches of interest were the new Portuguese Yacht-Club and the Ingenieur Zidane edition (500 pieces). At first, I didn't get the Yacht-Club (ref.3902). The weird plastic looking red hand and the fragile chronograph pushers seemed a bit odd on a rough watch for sailers. However, the pushers are derived from the thingies on a boat which they use to wrap the rope around. That makes a bit more sense but doesn't explain the red second hand. The rubber strap is also nice, but an alligator strap might do the trick for this watch as well.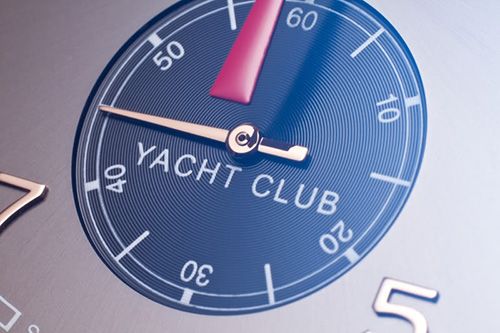 Below, you see a picture of the IWC display with – amongst others – the Zidane Ingenieur, with a brown dial. The dial is – irl – chocolate brown, the '10' hour marker is red and the rotor also has the number 10 engraved. This was – of course – the number of Zinedine Zidane when he was in the national league of France. Both the Yacht-Club with in-house chronograph movement and the Zidane Ingenieur with in-house 7-days movement are priced around 10K Euro.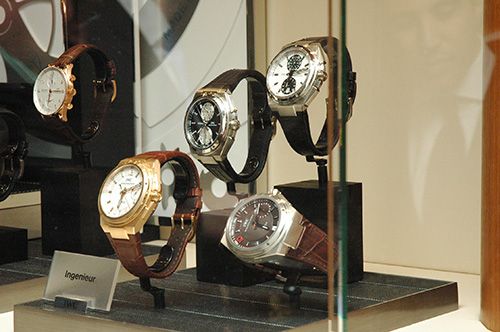 The IWC Portuguese 7-Days in stainless steel with the dial from the red gold model Portuguese wasn't my cup of tea after all. The applied hour markers and hands were too yellow-ish for my taste and the dial color doesn't match stainless steel. I prefer the stainless steel model with either silver/white dial or black dial.
All in all a superb event organized by Ace & Dik in Amsterdam. A big thank you to Alon and his crew (a.o. Dimer) for being perfect hosts during the evening. Photos above both taken by Dimer of Ace and Gerard, who accompanied me to Ace & Dik.