17Posted by Robert-Jan Broer on Apr 11, 2010Tags: 1675, GMT-Master, Pan Am
One of my favorite Rolex watches is the GMT-Master. With the introduction of the 116710LN and 116713LN models, I feel that the classic GMT-Master has been phased out by Rolex. The new updated model with its bulky lugs and ceramic bezel surely is a nice timepiece and probably suits all modern requirements, but it cleary stands further away from the original 1954 model than its more recent predecessors (i.e. 16710, 16760, 16700).
The first GMT-Master (ref.6542) was introduced in 1954, in the same year as Pan Am took the Boeing 707 in operation. Since the Boeing 707 was demanding the highest of Pan Am's pilots in terms of psychological well being. Pan Am thought that at least a time piece that could show them home time and the time at their arrival destination at the same time would be of great help to the pilots.
The Rolex GMT-Master – as the story goes – was therefore invented by Pan Am's request in the early 1950s. This first model, without crown-guards, 38mm and with caliber 1065 is very rare these days. If you can find one, in original condition with the bakelite bezel, prepare to pay 20.000 Euro or more, depending on condition and whether it is complete with box and papers or not. The dedicated Double Red Sea-Dweller fanpage has a nice article on this first 'Pussy Galore' GMT-Master ref.6542 (as seen in James Bond movie 'Goldfinger'). Click here to read it.
In 1959, Rolex introduced the GMT-Master 1675. This models comes very close to the more modern variations which have been in production till recently (ref.16710). The 1675 had a case measuring 40mm in diameter, crown-guards and an aluminium inlay. The movement also changed a bit and became Rolex caliber 1575. Don't get nervous when you see a GMT-Master 1675 with a caliber 1570 inside, the base caliber for this self-winding movement is 1570 and was left engraved on the bridge of caliber 1575. There also have been production numbers of the 1675 GMT-Master with caliber 1565 but it is unclear to me when these were used and in which particular models.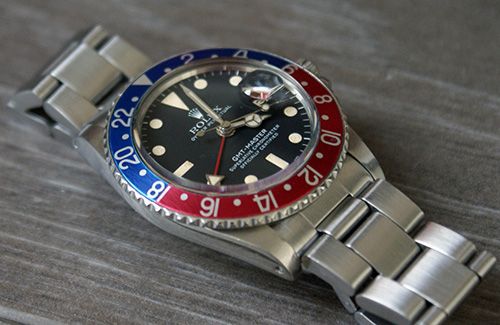 The 1675 GMT-Master was in production for a long time, from 1959 till approximately 1980. As we are used from Rolex, it was available in various combinations and with some small adjustments throughout this period. From 1968 onwards for example, customers could also choose for a more comfortable (but less sporty looking) Jubile bracelet. Below you'll see a 1675 on a Jubile bracelet.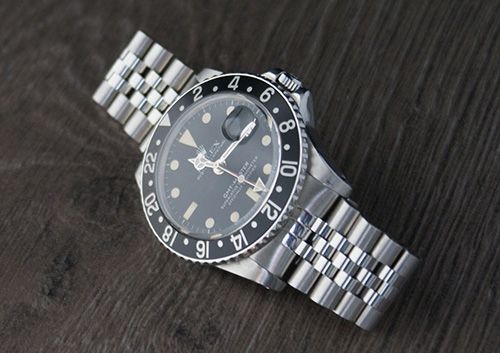 As you can see, the GMT watch gets a whole other look just by changing the bracelet. The bezel inlays were available in the Pepsi combination of red and blue and in black, making it look very similar to its diving brothers Submariner and Sea-Dweller. It wasn't until 2000 that Rolex made the Coke combination (red and black) available for the GMT-Master line of watches. The red from the Coke combination is more or less a bordeaux red when compared to the Pepsi red.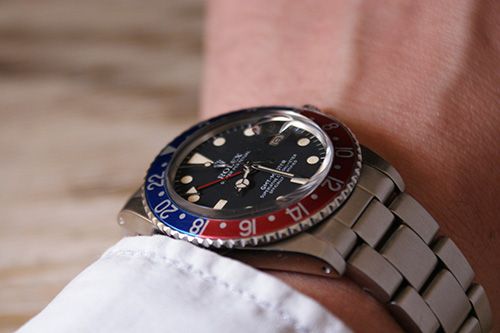 The GMT-Master 1675 can be found in all types of editions, with gilt dials but with custom logos as well. The Oman Marine Ministry, Tiffany & Co and probably others as well. Furthermore, the 1675 was the first GMT-Master to become available in gold. However, expect to pay at least 3000 Euro for a ref.1675 GMT-Master in decent condition. The versions with special dials are very sought-after models and their prices have nothing to do with these of the 'standard' GMT-Master ref.1675.
As you can see below, the GMT-Master has been linked to aviation for a long time in their advertisements. The one below comes from a German magazine and is part of an entire archive of advertizements at OysterInfo.de, a superb source on Rolex watches.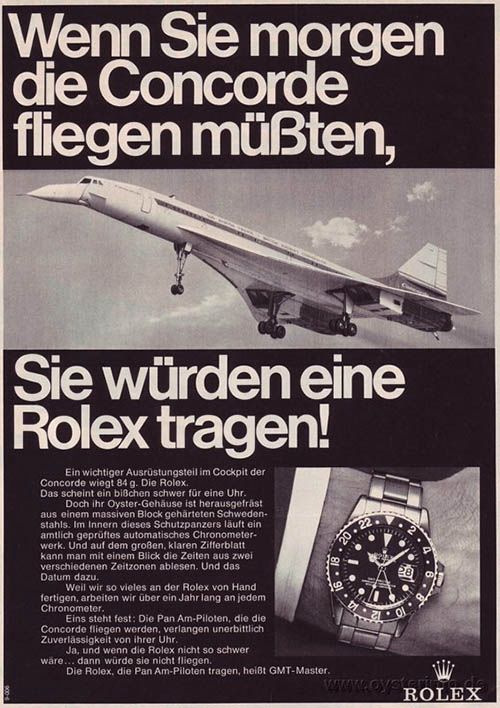 If you are looking for a classic & vintage Rolex GMT-Master 1675, always make sure to buy from a trusted dealer, auctioneer or private seller with a good reference on one of the better Rolex forums (like VRF, R-L-X or RolexForum.nl).
Thanks to Ummie for using pictures of his wonderful 1978 Rolex GMT-Master ref.1675.
Update: We did a thorough article on all GMT-Master watches in this article, 'Fasten your Seatbelts – GMT Master History'.