5Posted by Robert-Jan Broer on Apr 16, 2010Tags: 116509, Daytona, Offtopic, photography, Pictures
Almost all watch forums seems to have these weekly or even daily threads about what's on your wrist today. Well, in my case it is quite easy, the vintage Submariner I recently got is hard to beat on a sunny day like this
Our friends over at the German Rolex Forum (Das Rolex Forum) are clearly having fun with this "What are you wearing?"-thread, hence the 469 pages (and counting) filled with the most beautiful watches AND photos. Forum member Kurt tops the last few pages with his white gold Rolex Cosmograph Daytona (I love the dial on the white gold version), this picture could easily be in the Rolex catalogue if you asked me.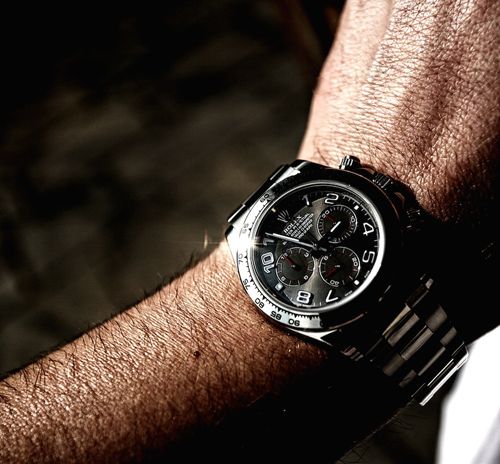 This white gold Rolex Cosmograph Daytona has reference number 116509 (in case you want one) and is fairly easy to obtain, as the stainless steel model remains the most popular version of the famous Daytona. The white gold version lists for 23.450,- Euro (here in The Netherlands) but there is more discount on gold models than on the stainless steel models
Other interesting "What's on your wrist today?"-threads are:
WRUW on WatchUseek
What's on your wrist at the end of the week? @ TimeZone
What's on your wrist on Sunday (or "De Pronkzondag van 11 april") at DeZinVanLuxe
Friday Wrist Check at Watch Talk Forums
What's on your wrist on Friday at Vintage Rolex Forum
Roll call over at Poor Man's Watch Forum (Thanks Jittery Jim for notifying!)
If you have more of these, please add them in the comments…?Ǭ† Photo courtesy of Kurt @ R-L-X.de
Have a nice friday!