0Posted by Robert-Jan Broer on Jun 13, 2010Tags: Berlin, Day-Date, Deep Sea, Explorer, Hillary, Milgauss, Timeless Tale
A few weeks ago, I reported about the Timeless Tale expo over at the Rolex boutique in Berlin (as part of the Wempe emporium). Some friends of the Dutch Rolex Forum went to Berlin to see the most important watches in the history of Rolex. Rolex Forum regular sBmRnR published their report in this thread, including some nice pictures of the trip and the Rolex Boutique. The report is in Dutch, so here is a small summary in English:
The Rolex Boutique at the famous Kurfurstendamm in Berlin. They had a lot of pieces of their current collection on display, even the stainless steel Daytona ref.116520 was available. Although I noticed that some other authorized dealers have them on display every now and then as well. List price and market price never were so close I believe.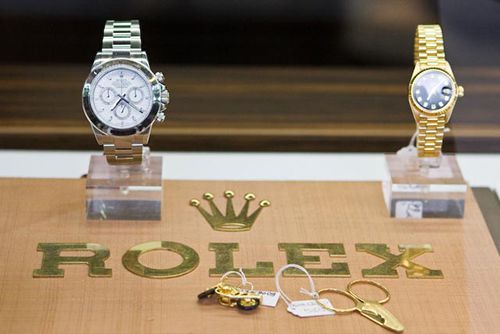 Inside, Rolex displayed their most important or better yet, meaningful watches of their 105 years of existence. The first Oyster case, the Deepsea, Sir Edmund Hillary's original Rolex… they were all there. Let's have a look at a few of them: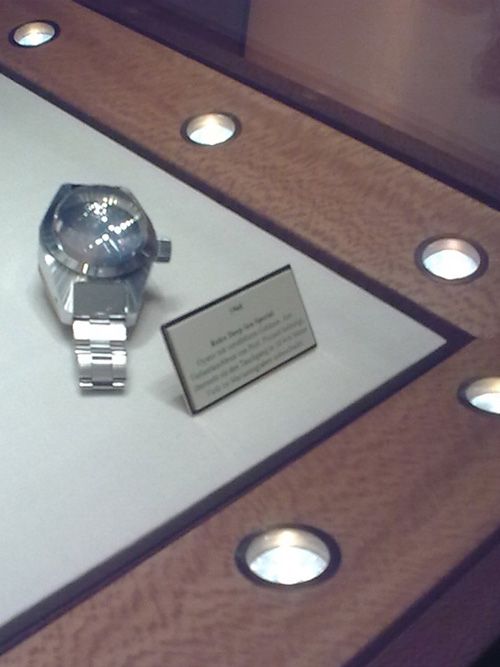 Here is the original Deepsea, on a rivet bracelet. This watch survived the famous 10916 meter dive in the Marianas Trench on the 23rd of January 1960. The watch was on the hull of the Triest submersible. Fellow blogger Roger Ruegger has done a nice article on this particular watch for his Dive Watches Blog (which is in German).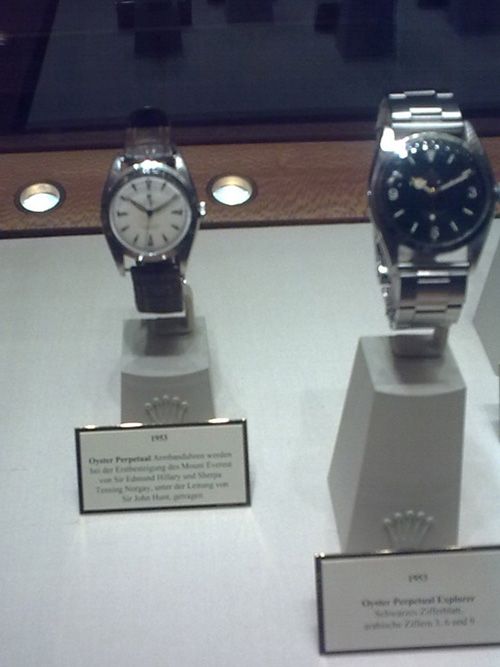 On the left you see Sir Edmund Hillary's Oyster Perpetual watch and on the right, the first Oyster Perpetual Explorer (1953). I believe sherpa Norgay wore a Rolex as well and Sir Edmund Hillary is known to have worn other watches during is climbs.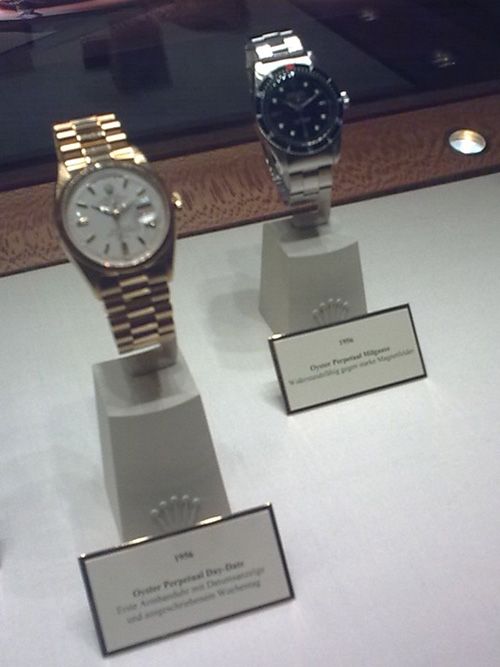 One of my personal favorite Rolex watches is the Day-Date model, launched in 1956 (above is the first model). The first automatic chronometer watch with a day and date indicator, shown above with the famous President bracelet. On the right, the Rolex Milgauss. For a long time, even during the 1980s, no-one wanted to have a Milgauss. Look at these little treasures now during auctions.. you wish you or your father/grandfather bought a few on sale…
More pictures can be found on the Dutch Rolex Forum, but as already said, the text is in Dutch. The photos above and in the Rolex Forum are a bit blurry, it has a reason
Thanks to Jiff, sBmRnR, Frankster and Vandenbroek to report their visit to Berlin and taking the quick 'n' dirty shots.
Update: Here is a link to the English Rolex Forums.