2Posted by Robert-Jan Broer on Sep 29, 2010Tags: AP, GTG, Submariner, Vintage
A GTG (short for Get Together) organized by a few members of the Vintage Rolex Forum is always good for a lot of photographs of impressive watches and watch collections. Vintage Rolex Forum calls these GTGs 'Passion', because of the passion for vintage Rolex watches. Looking at the photos, the guys also share passion for cigars, bags and watch boxes.
Below you'll see a Rolex ref.6200, a very nice vintage early 'Submariner' without the printing on the dial being a Sub. The gilt dial is very nice on this 'experimental' Submariner. Probably produced around 1955.
And this is not a Rolex, but being an AP fan and all, I though this might be worth posting here. An Audemars Piguet Royal Oak Concept on a mesh bracelet. Out of this world!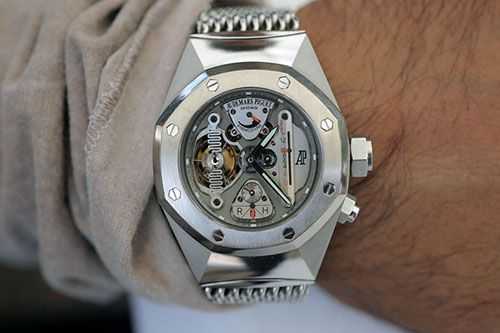 Both pictures taken by (and courtesy of) Bernhard, as posted on the VRF website.
Gallery #1
Gallery #2
Gallery #3
Gallery #4