6Posted by Robert-Jan Broer on Dec 18, 2010Tags: 116610LV, Kermit, Submariner, The Hulk
Introduced during Baselworld 2010, the new green Rolex Submariner ref.116610LV (click here for the initial photos I took) immediately got its nick name: The Hulk Submariner. Not being too enthusiastic about the colors of the dial and bezel myself, I did notice that there was quite some interest for this watch from the start.
Now, few months later, this The Hulk Submariner's availability improves every week and it seems to become the favorite watch of many Rolex aficionados. At least at the Dutch Rolex Forum. My friend Michael bought one last week and shows it here on Fratellowatches. I have to admit, that after having seen it in the flesh, it is much better than it was in the Rolex display in Basel. The lights probably hit the watch too hard That being said, it is a very hard watch to capture in pictures, but I think Michael did a good job.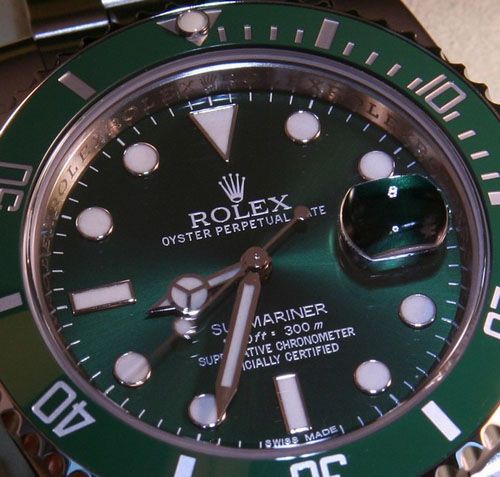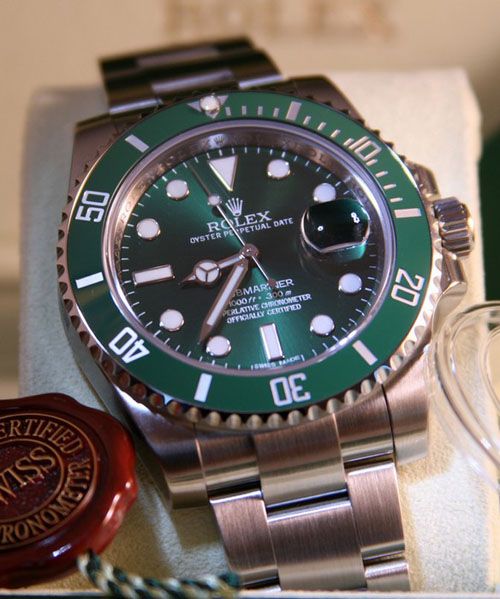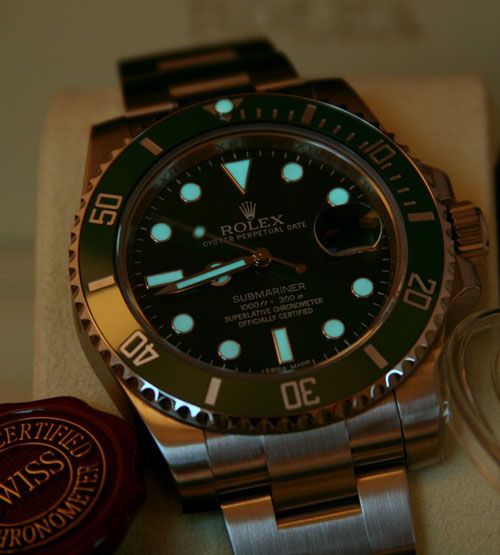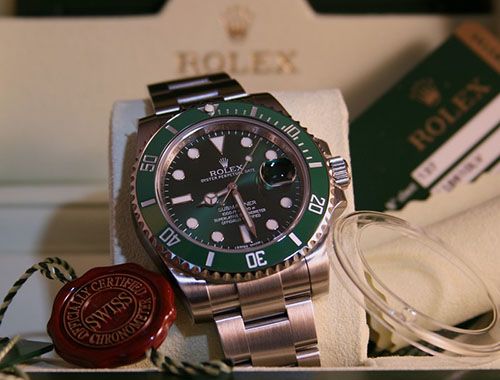 The green Submariner has a list price of 6220 Euro and just like the other new Submariner models by Rolex, it features the Glide Lock bracelet that enables you to extend the bracelet with 21mm (incrementally). Very useful when using the watch with a diving suit or just to extend or shorten the bracelet when the weather changes (mostly extending it at the end of the day). As you can see on the pictures above, the bezel no longer has the aluminum inlay. The new bezels are made out a material that Rolex patented as Cerachrom, an incredible hard ceramic material which also protects the color of the bezel. Older bezels were fading after years of wear and tear. However, some collectors like that
The Hulk with its maxi green dial with big bold hour markers and wide lugs is a nice upgrade from its predecessor, the 16610LV (nicked 'Kermit'). Of course, the demand of this former model has grown a lot as well since the new green Submariner became available. Expect to pay over 4500 Euro for a mint condition 16610LV.
Michel is currently selling this magnificent Audemars Piguet Royal Oak Chronograph, click here to check out his Chrono24 ad.