3Posted by Robert-Jan Broer on Dec 12, 2010Tags: Event, Les Ateliers DeMonaco
Last Friday, a friend and I visited the Miljonair Fair. Not that we are millionaires, probably not even together, but Amsterdam Diamond Center (part of Gassan Diamonds) gave us tickets to come to the show.
Gassan Diamonds had one of the biggest booths at the fair, including a few shop-in-shop boutiques from Jaeger-LeCoultre, IWC, Omega, Breguet, Ebel, Breitling, Cartier and Ateliers de Monaco. Being a huge fan of Atelier De Monaco, I was very pleased to see them here. Pim Koeslag of Atelier De Monaco took a lot of time to show their timepieces and do some explanation on them.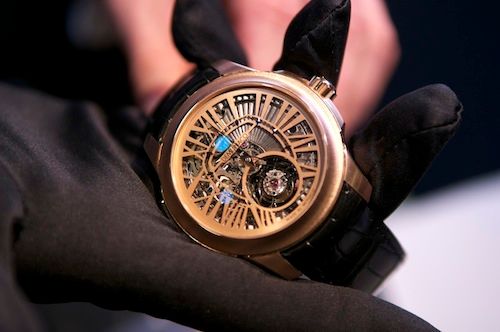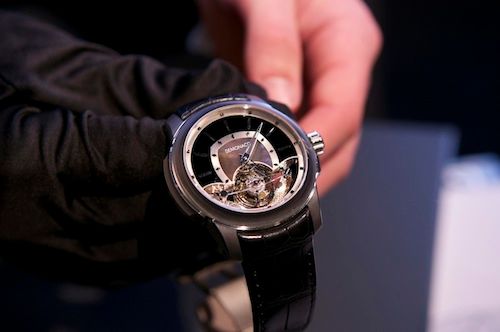 Pim Koeslag giving some explanation on one of their exquisite timepieces to my friend Ger.
Below, you'll see some of the photos I took of Rolexes that were on display by Gassan. One of the most special (and expensive) pieces of them is the white gold Submariner studded with baguettes and emeralds. Price tag: A whopping 220.000 Euro. It was sold on the first evening of the fair.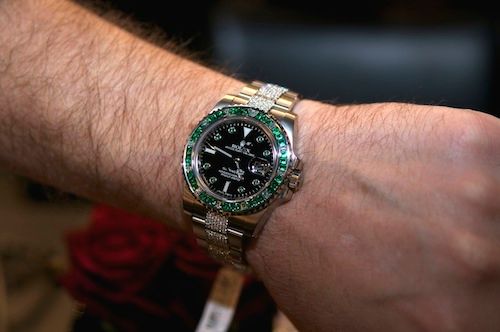 The rest of the photos can be found in the Dutch Forum over at WatchUseek. If you can't read/understand Dutch, the pictures will do just fine
Click here to see the full photo report.