2Posted by Robert-Jan Broer on Jan 08, 2011Tags: Universal Geneve
You all know Universal Geneve as a watch brand that had some great models like the tri-compax chronographs and the Polerouter model. The Polerouter has a lot of vintage watch fans, and there is even a dedicated website for this particular model (click here).
Universal Geneve also made military watches, and one of these models were sold to the Royal Dutch Army. These watches were issued to the Dutch soldiers during the late 1930s, just before World War II started for The Netherlands (on the 10th of May 1940). The dial of the Universal Geneve features a 'W' symbol, which was the initial of Queen Wilhelmina of The Netherlands. Queen Wilhelmina ruled The Netherlands from 1890 till 1948 and is the grandmother of our current queen, Beatrix.
This Military Universal Geneve measures only 30mm in diameter, which is rather small for current standards. I assume only collectors of vintage military watches or Dutch military gear are interested in owning one (and probably won't wear it often). The caseback of the watch has two numbers engraved, a serial number and a patent number.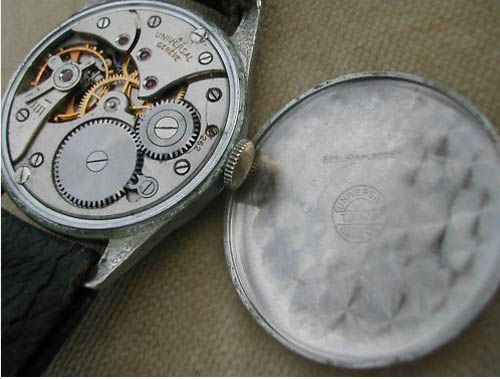 A hand wound UG caliber 265 movement with 15 jewels was used in this watch. The watch pictured above can be found on eBay for $569 USD (click here). Also, there are a few of them available via Chrono24, ranging from 590 – 890 Euro. The price of the model on eBay is probably also quite low because of the condition of the case, as you can see on the pictures above.