4Posted by Robert-Jan Broer on Jun 21, 2011Tags: 1960s, Automatic, Design
Browsing through the catalogue of MARCH LA.B is like watching an episode of HBO's Mad Men. As a tribute to vintage watches, MARCH LA.B introduced a line-up of interesting timepieces that wouldn't look bad on Don Draper's followers.
Clearly being a 'design' brand, which normally would not be something that appeals to me, the models they've created are very similar to the real thing of the 1960s. After having had a look at their website, I was even more certain that the people behind the MARCH LA.B brand are very capable of providing great design and creating interesting timepieces.
Obviously, they are not targeting at watch collectors or aficionados only, as they also incorporated quartz (Ronda) movements which is a pity in my opinion, as they are leaving out a large group of people that otherwise would be even more interested in buying a MARCH LA.B watch.
On the other hand, using a quartz movement does keep the price under a certain (affordable) level and – you wouldn't think so – a lot of people still don't seem to be caring about mechanical movements anyway ; – ).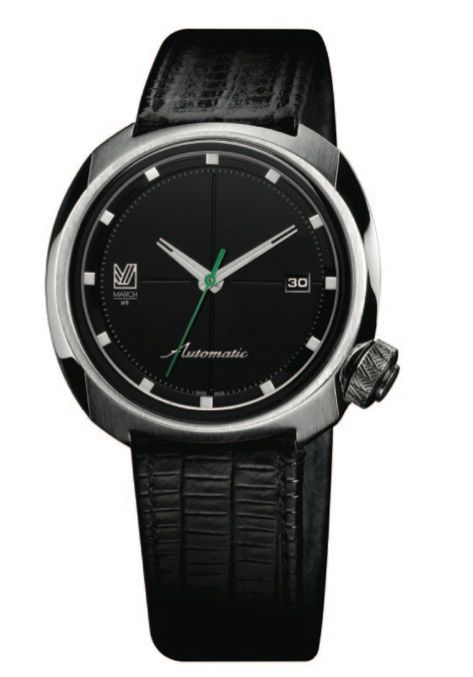 One of the watches from the catalogue that grabbed my attention is the AM1 Automatic _Black. A 40mm mechanical timepiece with that typical 1960s case design, dial and hands. Even the wording 'Automatic' uses a typical 1960s font that could probably be found on the dashboard of certain cars as well, in chrome of course. This watch comes on a black leather lizard strap and has a crown at 4 o'clock.
The movement that MARCH LA.B used is an ETA 2892-A2 with the company logo engraved in the rotor.
Price is set to $1645.- USD and available through their webshop at http://www.march-lab.com/.