5Posted by Robert-Jan Broer on Aug 06, 2011Tags: Weltzeit, Zurich
A while ago, I wrote an article about my Top 3 favorite world timer watches (click here). Ever since I first saw the Nomos Zurich Weltzeit watch at the SalonQP in London last year, I was waiting for it to finally arrive, to see whether it would get a spot in the Top 3 of my favorite world timer watches.
The version I had in my hands in London was a prototype or at least a version that was subject to a few changes, but it worked perfectly and was easy to adjust.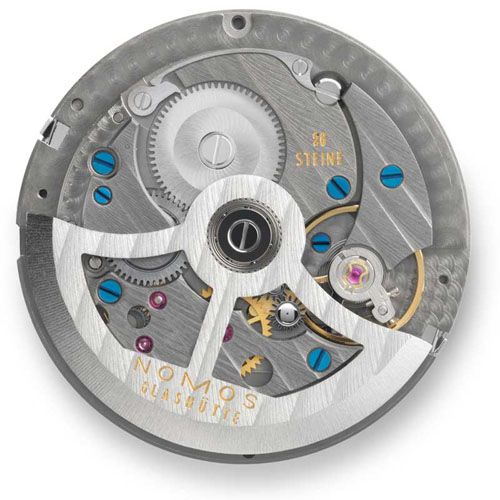 Luckily, with the new Zurich line-up and Tangomat GMT watches, Nomos decided to enlarge their watches to 39-40mm. This way I could properly give them a try, as the inital Nomos models were way too small for me. A few weeks ago, I was able to fiddle around with a Nomos Zurich Weltzeit watch via Horloge Platform Nederland, one of the official Nomos representatives in the Netherlands. Although Gerard did his own perfect write-up on this Weltzeit watch (click here), I wrote one myself as well for AskMen. Click here to visit the Nomos Zurich Weltzeit review on AskMen.
For just above 3.700,- Euro, I think this is an amazing timepiece, as long as the design is up to your taste of course. Although 3.700,- is still a lot of money, you do get an in-house developed Nomos movement (see above) that has an impressive finish and enables you to adjust the time zone in a very simple manner. Pushing the button will turn the city disc and increase the hour hand. The 'heimat' arrow is used to display your home time. Not everyone seems to be happy with the German wording on the dial, but I like it. The Germans can be proud of their heimat once again, for having a cool watch company from Glashuette that creates – nearly – perfect watches for travelers.
I do have my concerns about availability though, as I haven't seen them much around yet while their seems to be such an interest in them. Let's see when they hit the stores in a proper manner.
Link: My AskMen Review of the Nomos Weltzeit Watch