5Posted by Robert-Jan Broer on Aug 28, 2011Tags: Speedmaster
As you can see in the master head of my blog, there is this Speedmaster Automatic with day and date aperture. Even better yet, it is a Speedmaster with an automatic Lemania 5100 movement in a watch case that comes close to the one of the Omega Speedmaster Professional 'Moonwatch'.
On a weekly basis, I get e-mails from people asking what type of watch I've used for the masterhead. With this post, it becomes easy for me to redirect them to the correct answer. It is the Omega Speedmaster Automatic ref. 376.0822, also known as the Holy Grail (thanks to Chuck Maddox). This watch has been introduced in 1987 and was in production for less than two years, it might be even one year only. It has become highly sought-after by chronograph collectors and especially collectors of Omega Speedmaster watches. If there's a watch Omega should be thinking of re-editioning, let it be this one.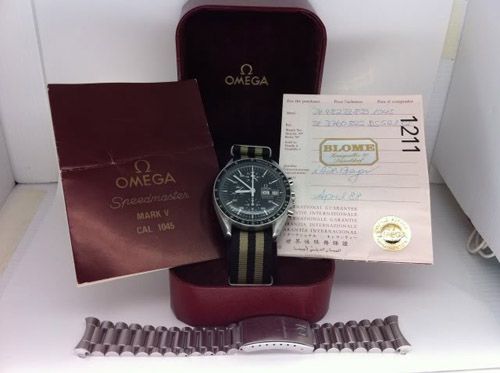 This Speedmaster came with a ref.1450 bracelet, also nicked Omega's President bracelet, also used on Speedmaster Professional watches in the 1980s and early 1990s before they introduced the bracelet with the polished links. Once in a while, you'll see these watches for sale, but not as complete as I've found the one below (and above) at TZ-UK. You need to be registered on the TZ-UK site, to see this post, but it's worth it. Asking 4250GBP firm or a trade worth of 4750GBP seems fair to me. Although the instruction book is for a Speedmaster Mark V, it could be that Omega or the dealer has given it with this Speedmaster Automatic back then.
Picture credits go the seller, Chinnock.