1Posted by Robert-Jan Broer on Sep 26, 2011Tags: Astronauts, Space watch
During the Space Shuttle STS-128 mission, Swedish ESA astronaut Christer Fuglesang was not only wearing his trusty old Omega Speedmaster Professional X-33 watch but on his other wrist, he was wearing an – at that time – unfamiliar watch, the Halda Space Discovery watch. Developed with the help of astronauts aboard of the STS-128, Swedish watch manufacturer Halda was able to fine-tune their Halda Space Discovery watch and finish the production of this timepiece. They are limiting the number of timepieces to 128, referring to the flight number of the NASA Space Shuttle mission in 2009.
Whether the Halda Space Watch will eventually replace the Speedmaster Professional (X-33) remains uncertain, but rumor goes that a number of astronauts got a Halda timepiece. Now that the space shuttle missions have ended, Halda is given some extra time to promote and further develop their Space Watch. The cool thing about Halda watches, is that they can be used as separate modules, like Linde Werdelin's instruments except that you actually replace one module with the other. In the picture above, you'll see the digital version of the watch, like the X-33 by Omega. Below, you see the 'analog' and mechanical module that replaces the digital module. You instantly have an entirely different timepieces on your wrist, while the craftsmanship and design remains unchanged.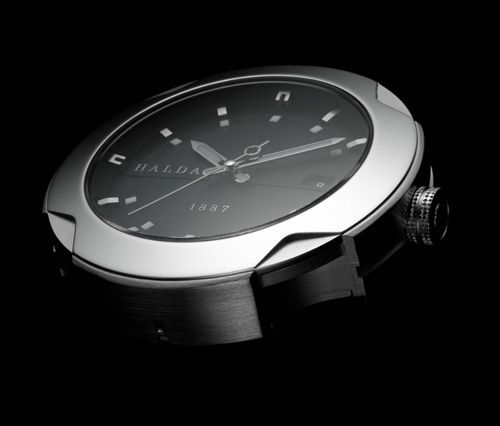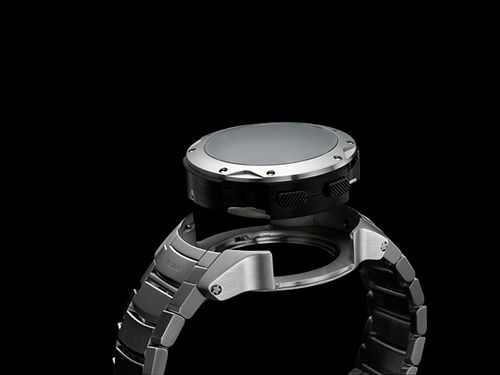 The mechanical module has this vintage A.Schild movement inside, finished by Svend Andersen, like he did with Linde Werdelin's blue gold rotor A.Schild movement for the SpidoSpeed SA. Although we've seen a lot of A.Schild movements in new watches, this movement is quite special as it ticks at a very high beat rate. Like Zenith's El Primero, this Halda's caliber H1920-SA ticks at 36,000 beats per hour (or 5 herz). Pro of these high beat movements is their accuracy, cons might be that they are quite sensitive movements.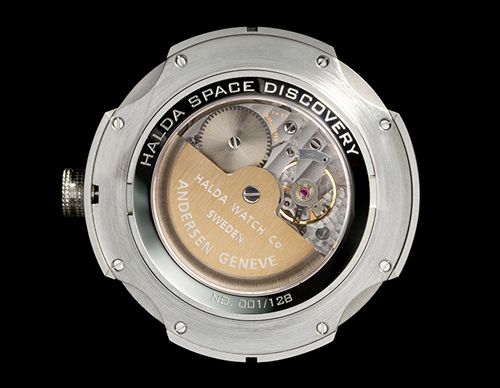 Although the diameter of both modules are equal (45mm), the height of each module differs. The Electronic Time module measures 17.6mm in height while the Mechanical Time Module is only 15.8mm in height. Both modules seem to be very wearable to us, but our colleagues over at KronosBlog have a great video review of a Halda Space Watch that goes on for 13.24 minutes that is definitely worth viewing. Also cool to mention, is that the Electronic Time Module version has a Hesalite (plexi) crystal that – just like the Speedmaster Professional 'Moonwatch' – does not scatter into hundreds of pieces damaging the dial of the watch and possibly even worse, the mechanical movement. It cracks and remains in place, waiting to get replaced. It seems that Halda took the best features from the original Moonwatch and used it for their timepiece as well.
Of course, for the 'dress' – or mechanical – version of the Halda Space Watch they used a domed sapphire crystal.
The functions of the Electronic Time Module are perhaps most interesting to list and easy to compare with the features of Omega's Speedmaster Professional X-33 'Mars' watch (which has been out of production for a few years already).
Countdown: Precise countdown function displaying time left to set occurrence at certain day and time.  This function is based on the NASA Countdown 101, the official framework for space shuttle take off and it is also prepared for the new generation Are rockets count down.
G-Force  measurement: Automatic track of acceleration, G-forces, at lift off and re-entry that also can be started manually. Top G-force notations are stored in a separate memory for track record and evaluation.
Mission Time: Countdown for lift off that can be set for precise date and time, at the set time, the watch automatically switches to measuring acceleration during lift off, displaying current G-forces as they occur. Once acceleration slows down, the function automatically changes to measuring Mission Elapsed Time (MET).
Event Log: Log for events based on date, Universal Time Coordinates (UTC) and individual event number for up to 99 events.
Earth Time: Display of the different times zones on earth, with adhering time information on included territories in each time zone. While in space, this function is used to obtain efficient communication with earth.
Dual Time: Display of two world times simultaneously, and a dual calendar displaying double information of weekday, date, week, month and year for the selected world times.
Chronograph: Timer with precision up to a tenth of a second.
UTC Alarm: Alarm based on Universal Time Coordinates (UTC).
MET Alarm: Alarm based on Mission Elapsed Time (MET).
Reveille: Alarm clock that can be set once or repeatedly daily or each weekday.
As you can see, Halda Space Watch added the G-Force measurement functionality and the event log compared to the X-33 functions (which can be found here). Also, the countdown functionality is a bit more enhanced than the countdown function of the X-33.
However, biggest difference between these professional astronaut watches is the level of finish. The case and bracelet seem to be very well finished, with a lot of details. As you can see on the KronosBlog video, even the Halda Time Module (that holds the Electronic Time or Mechanical Time module into place) has a superb finish, even the inside of the Time Module features perlage finishing (more on finishing watch movements can be found here). For a price of 9,800.- Euro this is what one should expect from a high-end timepiece of course.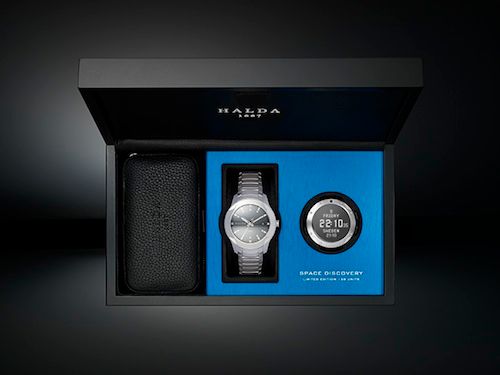 Expensive? Perhaps, but you get a lot of watch for that kind of money, actually even two with the same finish and craftsmanship of the more renown high-end brands. The Halda Space Watch is a project that has gone through many proto-typing phases (with the help of astronauts) to be able to deliver a well though-through and designed watch in the end.
Currently, the Halda Space Watch is being carried by Jarl Sandin in Gothenburg, Sweden.
More information can be found at: http://www.haldasweden.com/