7Posted by Robert-Jan Broer on May 07, 2012Tags: Genta
This is what happens if you put 5 fans of Gérald Genta designs in one room. Yesterday, our very own watch photographer Bert invited us over to his crib for the perfect BBQ (no vegetables) and show all our Genta stuff while enjoying good food and drinks.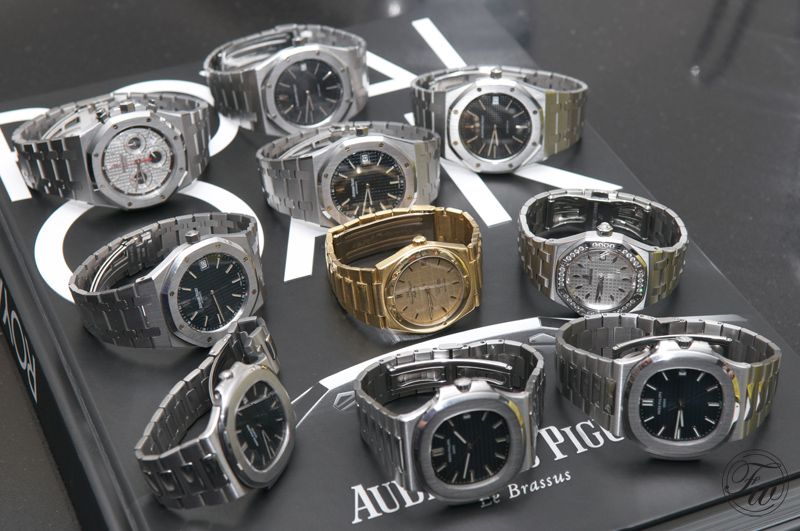 As you can see, we brought the usual suspects. 2x Patek Philippe Nautilus 3700/1A, 2x Nautilus 5711/1A, 1x Audemars Piguet Royal Oak 5402ST, 1x Royal Oak 14802 and 2x a Royal Oak 15202ST. All considered to be the 'Jumbo' models as designed by Gérald Genta. On top of that, there were some deviations of the original models such as the Audemars Piguet Royal Oak Chronograph 26300, the Royal Oak Lady and an IWC Ingenieur SL Automatic in gold. All the watches are on top of the Royal Oak 40th anniversary book by AP. One Patek is missing from the picture, but that one is featured below
Some time ago, I did a comparison review on the Royal Oak and Nautilus (which you can find here), but yesterday the general opinion was that you actually need both. These watches are very different, and the people who were present who had 'just' one of them, noticed that they actually would love to have the other as well. Although people keep compare them (including yours truly), they are very different. The Nautilus is very smooth and slick where the Royal Oak is a bit more raw and 'hard core'.
Below, an overview of the four Royal Oak 'Jumbo' models of which two are exactly the same (even don't differ that much in terms of serial numbers). We were only missing one reference number, which is the very rare Royal Oak ref.15002. Similar to the jubilee version that was also present yesterday (ref.14802), but without the transparent case back.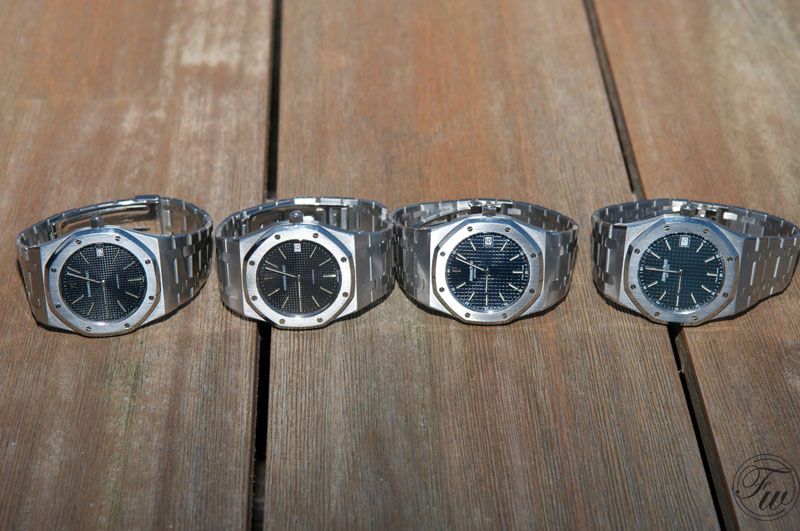 Last but not least, the one that was missing on the first picture, the Patek Philippe Nautilus ref.3700/1A from 1977. As you can see, it is in its original cork box. Truly a rare find. The movement inside this Patek Philippe Nautilus 3700 is identical to those used (and still being used) for the AP Royal Oak Jumbo, all based on Jaeger-LeCoultre caliber 920.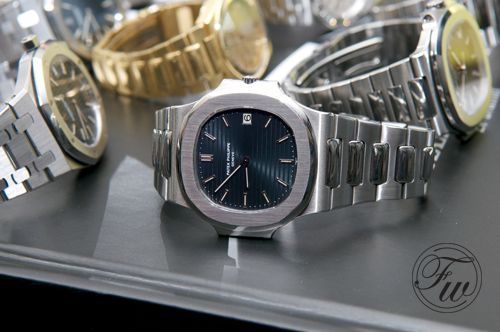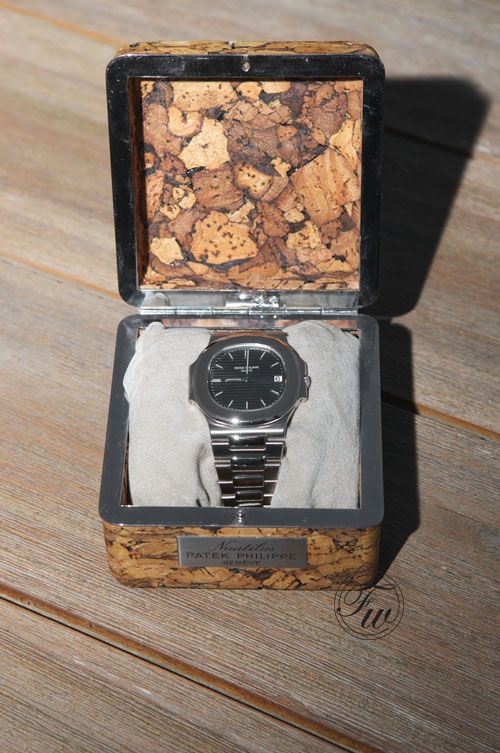 Attending were Gerard, Michael, Bert, Michael, Frank and myself. Looking forward to the next BBQ theme.