2Posted by Robert-Jan Broer on Jul 07, 2012
This year, it is 80 years ago that Omega became the official timekeeper at the Olympic Games in Los Angeles in 1932. During these 80 years, Omega has been the official timekeeper 25 times.
The Games will start at the 27th of July and will go on for 17 days. Over 10,000 of athletes and officials from over 200 countries are participating in the Olympic Games in London. Omega's count down clock has been put in place in March last year and is rapidly approaching the start of the Games.
Watch enthusiasts over the world are probably most familiar with the special edition watches that Omega has been introducing over the last few years. However, for the 2012 London Games, Omega did something really special. They have developed a re-edition of an early Seamaster model. The Omega Seamaster 1948 Co-Axial 'London 2012' limited edition, or just Seamaster 1948. Although we've already seen it during BaselWorld 2011 (click here for our earlier blog on the Seamaster 1948), it is great to learn it is finally available!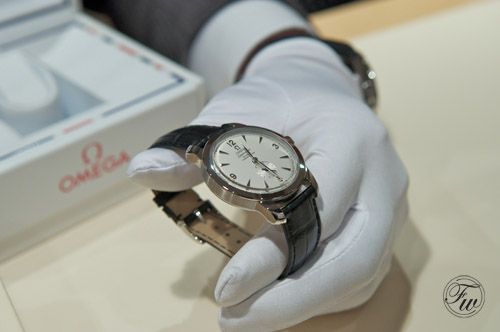 Although it looks very similar to the very first Seamaster models which were introduced in 1948, we also see some reminiscence with the famous Seamaster XVI and Seamaster Cross of Merit from 1956 (commemorating the Games in Melbourne that year).
First Seamasters from 1948. Left is a CK2518 Seamaster with Chronometer movement caliber 343, right is a CK2577 with a caliber 350 movement.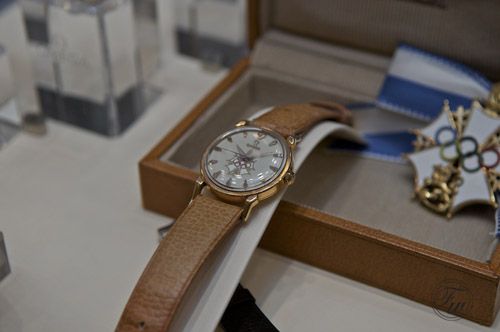 Omega Seamaster Cross of Merit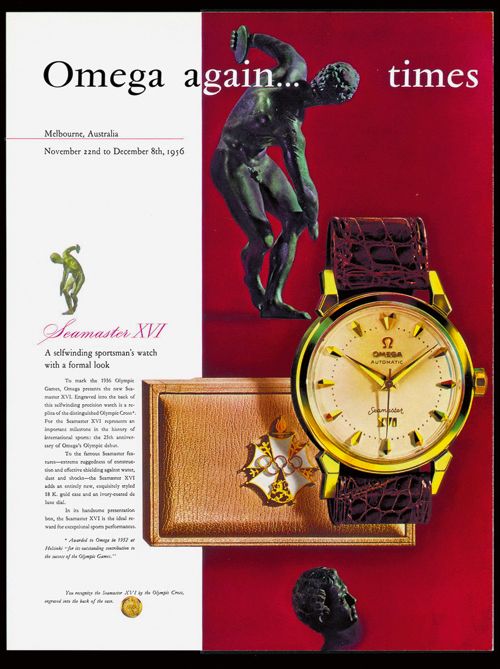 This 39mm case is a lot bigger than the very first 34mm Seamaster watches, but its shape and style definitely reminds us of those classic Seamasters from 1948. Just like the very early Constellation models, this Seamaster 1948 has a gold medallion on the caseback. It shows the 2012 Games logo embossed in 18 carat gold.
The opaline silver dial with small seconds located at 6 o'clock is very nicely done and together with the arrow shaped hour markers and Roman '12', '3', '6' and '9' it clearly reveals its heritage. Inside, the watch uses a co-axial automatic movement caliber 2202 that has been chronometer certified.  The Seamaster 1948 has been limited to – indeed – 1948 pieces. We are pretty sure it will be sold out quickly, so if you want one, contact your authorized Omega dealer now.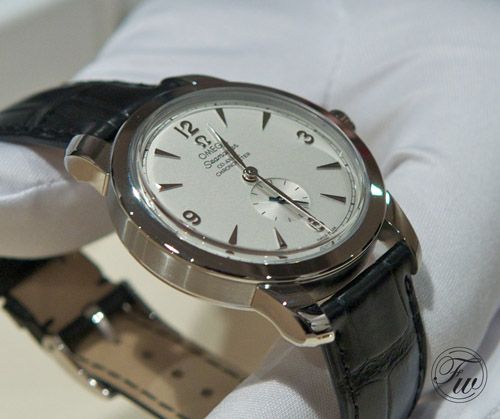 Besides these special edition watches, Omega plays a tremendous role in official timekeeping during the Olympic Games. They did some very interesting innovations when it comes to professional timekeeping for the Games.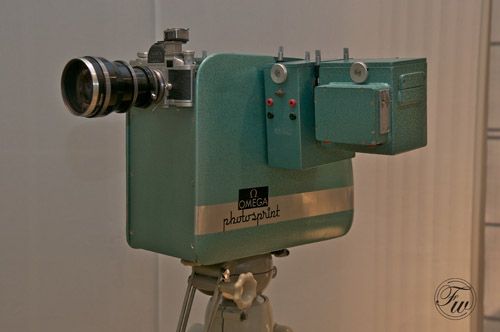 What to think about their Photosprint (or 'Magic Eye') system that dates back to 1948 to clock runners? Above we pictured a somewhat newer version of the Photosprint (ca.1952). A picture we took when visiting the Omega Museum in Bienne (click here for our travel report).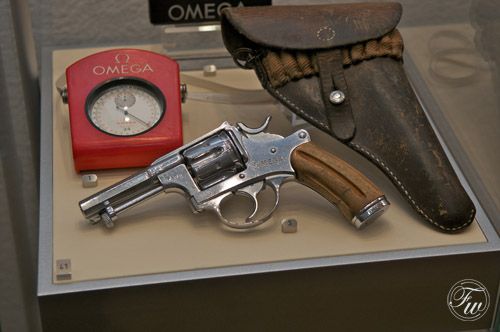 Omega also has a long history of developing start pistols, the very first models looked similar to the Colts used in the wild west, whereas the new models have this very futuristic design that wouldn't look bad with your Playstation or Xbox.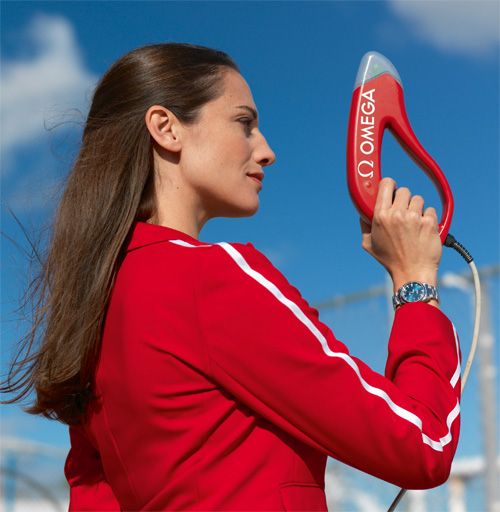 Also interesting is the development of the touch pads used for swimming during the Games. Before, there used to be a judge in every swimming lane that had to time the finishing of the swimmers. The 1960 Olympic Games proofed that this wasn't entirely free of mistakes (click here), so Omega developed a system with touch pads in every swimming lane that measured the times insetad. This touch pad system was introduced by Omega in 1968 (and already had been used during the Pan-American Games in Winnipeg, 1967) and has been used ever since.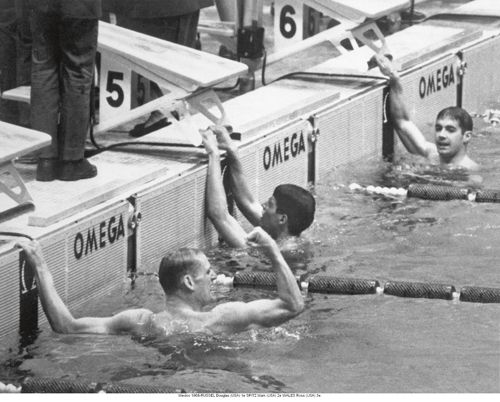 The development of official timekeeping didn't stood still over the years,  and Omega is introducing quite a few new innovations for the London Games. What to think of the Quantum Timer, able to time as accurate as 1 millionth of a second, or the new starting blocks for athletes that will measure the reaction times by the force that runners use against the back blocks. An interesting overview of Omega's role in official timekeeping can be found here.
We are looking forward to see the London Games in a few weeks from now and to see one of our favorite brands making sure everything is being timed as accurate as possible.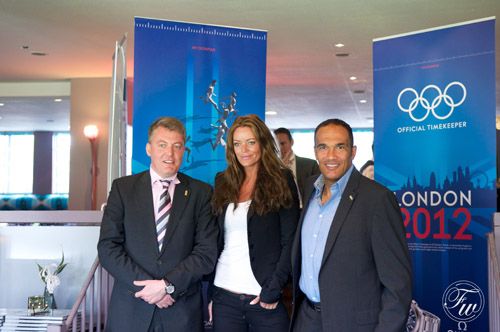 Pictured are Eric Vanderhoeven (OMEGA), Olympic Swimming champ (2004) Inge de Bruin and Olympic boxer (1984, 1988 and 1992) Arnold Vanderlyde. Photo taken during a presentation on Omega and the Olympic Games in the Amsterdam Olympic Stadium earlier this year.
Official Omega website
Official Omega Facebook page