4Posted by Robert-Jan Broer on Sep 04, 2012
We know you've been waiting for Speedy Tuesday! We know we have! This week's Speedmaster is a very rare model, a white gold 25th Anniversary Speedy that has been chronometer certified.
This Speedmaster Professional Chronometer ref. BC 148.0062 (ref. 348.0062 with the white gold bracelet) was introduced in 1994 together with a version in stainless steel and a version in platinum. The white gold version is the only one that has been chronometer certified. It is basically a caliber 861 movement but since it was regulated to become a chronometer (and received chronometer certificates), it has been numbered '864'. Omega also did some decorative work on this Lemania based movement.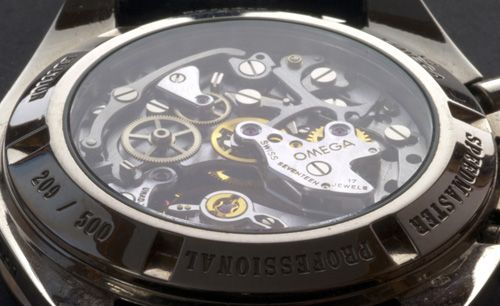 Just like the platinum (50 pieces only) and the stainless steel (2500 pieces only) Apollo XI commemorative models, this white gold version (limited to 500 pieces) has an inscription in the side reading 'Apollo XI 1969 – 1994′. These watches have been numbered in the case back (xxx/500).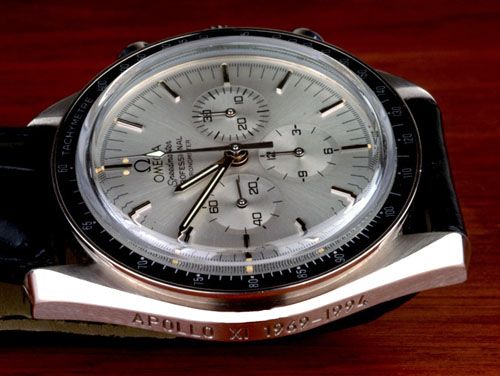 This Speedmaster Professional is not the only one that has been chronometer certified. In 1992 Omega introduced another Speedmaster Professional with a chronometer certified caliber 864 movement. This ref. 345.0052 was a commemorative model for the 50th anniversary of the famous caliber 321 movement that was introduced in 1942. We'd rather would see a vintage caliber 321 in there, but it is too late for that now. There are other Speedy non-Professional watches that are chronometer certified (like this one) as well.
Back to the version we are discussing here, the Speedmaster BC 148.0062. It didn't came in the ordinary red, grey or black leather Omega box! Omega used a box in the shape of a book to present this watch to its customers! Below you see a picture of the box closed, it is not from the actual watch here but belongs to an auctioned model at Antiquorum.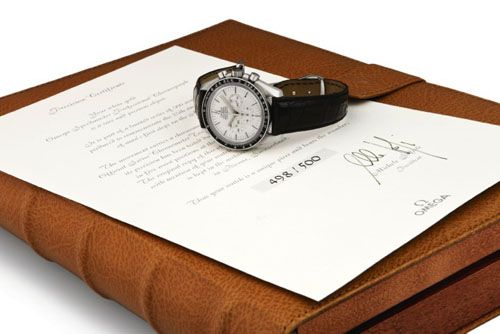 There was one of these watches at the famous OmegaMania auction in 2007 and sold for 28K CHF but we think that was slightly overrated (as were a lot of prices fetched during that auction). In 2011 they sold two of these watches (leather strap version) between 10.5 and 12K CHF.
A big thanks to Richardew for this very cool Speedy!
If you have a Speedmaster and want it to be featured on Speedy Tuesday here, send a mail to: speedmaster@www.fratellowatches.com