21Posted by Robert-Jan Broer on Oct 09, 2012
An Astronaut's Speedmaster!
Fratellowatches is excited and proud to show you one of the actual astronaut's Speedmaster Professional watches worn by Reinhard Furrer. Reinhard Furrer was one of ESA's astronauts during the Space Shuttle mission in 1985.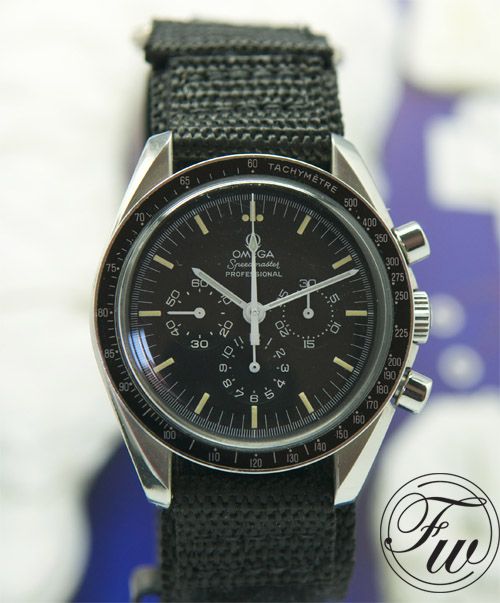 On the 30th of October 1985, the Space Shuttle Challenger lifted off from Pad A of Launch Complex 39 at Kennedy Space Center, Florida, USA. This mission, a Spacelab mission that was funded and directed by [West] Germany was 'nicked' D-1 besides the official Space Shuttle program code STS-61-A. D-1 stands for Deutschland-1 and a part of this succesful mission was controlled by the German Space Operations Center in Oberpfaffenhofen (near Munich) in Germany, instead from the regular NASA control centers.
Reinhard Furrer was one of the payload specialists performing scientific experiments on board of the Space Shuttle Challenger, indeed controlled from the German Space Operations Center.
Now, some watch enthusiasts know that Reinhard Furrer wore this Sinn 140 chronograph watch. But apparently, he also had this astronaut's Speedmaster Professional ref.145.022 in his possession. Not just any Speedmaster Professional, but one issued to NASA in 1978 (more on that later). However, this astronaut's Speedmaster Professional was recovered from his heritage by his family (Reinhard Furrer died in a plane crash in 1995) and given to a close friend (also a former astronaut). We got in touch with him and last weekend we got this watch in our hands.
This astronaut's Speedmaster Professional was sent by Omega to NASA on special request and as part of the Alaska III project. Every request Omega handled for NASA was given the project name Alaska. You might know the white Project Alaska limited edition that Omega produced a few years ago, but in fact, that was a re-edition of the Alaska II project Omega did for NASA. The first Alaska project watch was a titanium model that Omega produced and can be seen in the Omega museum in Bienne. We have no further details on the specific request from NASA though.
In 1978, Omega was asked for a few watches for re-certification by NASA. This re-certification was necessary for the Space Shuttle program that was yet to come (1981 – 2011). For EVA purposes, Omega already delivered the astronaut's Speedmaster Professional since 1965/1966 and now it was time to do some extra tests on the watch for the Space Shuttle missions. As shown below, we've found a NASA document with an official description of the watch based on the NASA SED Production Number on the back of the watch: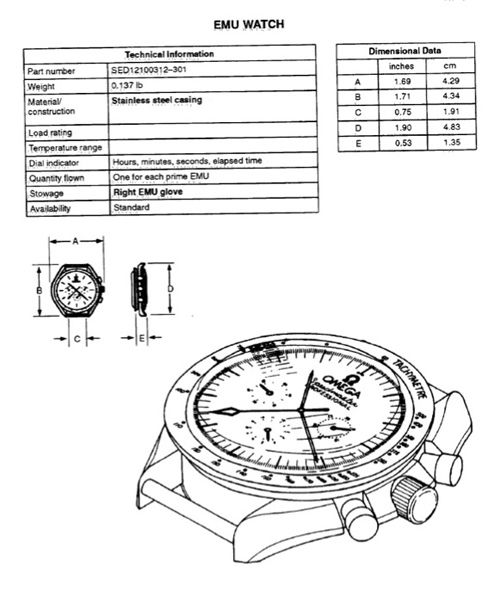 Omega delivered three different watches in 1978, the Speedmaster Professional 145.022, the Speedmaster '125' (covered here) and the Speedmaster Speedsonic with a tuning fork. On the 2nd of November 1978, NASA announced the winner of the tender. Once again, the mechanical hand-wound Speedmaster Professional ruled the competition (30 brands were asked for a chronograph) and according to Omega, NASA ordered then 56 pieces of this astronaut's Speedmaster Professional for the symbolic amount of 1 cent each.
On my wrist today, one of these 56 pieces of the Omega Speedmaster Professional that has been delivered to NASA. Strangely enough, with a dial that is a bit different from the regular Speedmaster Professional (radial Arabic indexes on the counters) but definitely delivered this way to NASA. The astronaut's Speedmaster case back has the NASA engravings, a product number and a serial number. For safety and privacy reasons, we blurred the serial number from the case back.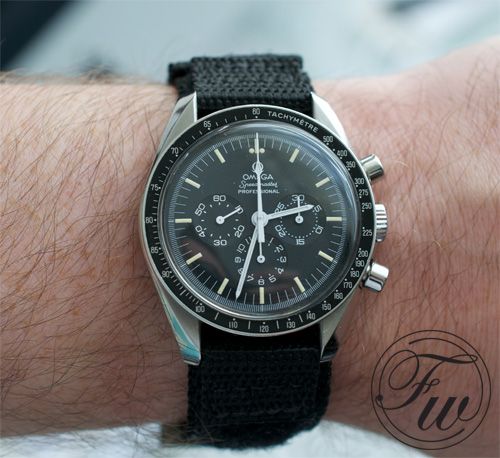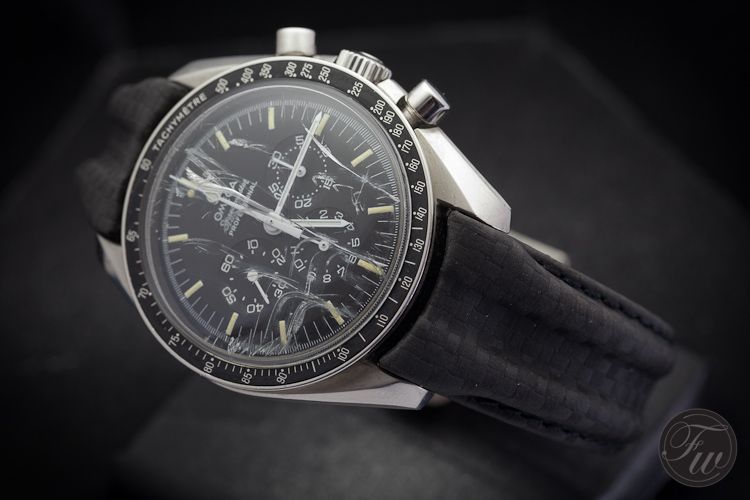 The watch when we received it, cracked crystal (accident by the current owner), which the FW watchmaker replaced for him.
Case back inscription with NASA product number and blurred serial number.
The biggest question is how Reinhard Furrer got this astronaut's Speedmaster Professional. He was working for ESA and ESA astronauts had to pick their own watches (most of them preferred and wore the Seiko 100 sports chronograph ref. A829-A6019). Did he receive it from another astronaut (colleague at NASA) or did NASA in Florida issued one to him? If there's someone out there who can help us with that, we would be really thankful.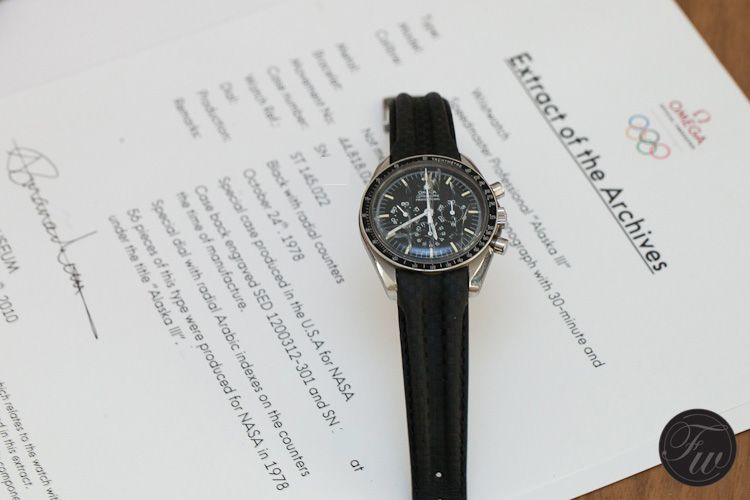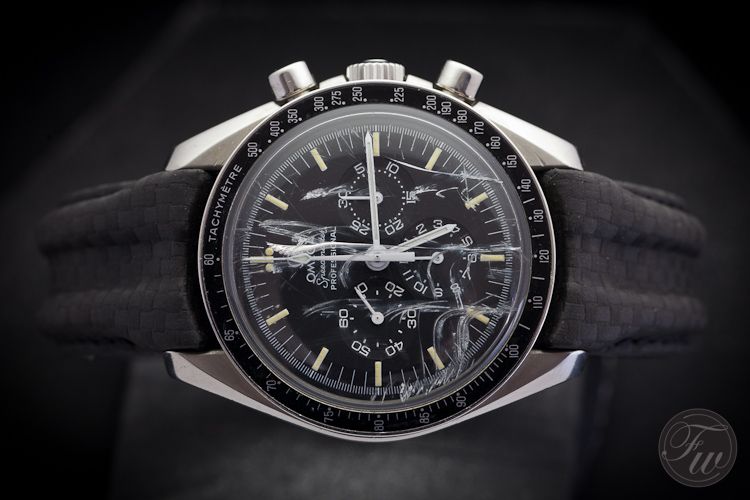 The current owner wears the watch on this kevlar Omega strap, but we've put it on a NASA-like velcro strap (GasGas Bones produces them) for a few of the pictures.
We would like to thank the current owner of the watch for letting us have fun with it here on Fratellowatches, thank OMEGA for their help and especially thank expert Brandon Thomas for input on this article.
Update: We just received a small correct. It seems that – based on the archives at Omega – that it wasn't the Speedmaster 125 that has been sent for the tender with NASA, but the Omega Chronograph ref.11003, which later on became the Omega Seamaster FIFA chronograph. The Speedmaster 125 is mentioned in Omega's Journey Through Time book though, as candidate but their archives say otherwise.
Next week, we will have another cool – but slightly less exciting – Speedmasters to cover during Speedy Tuesday!