0Posted by Robert-Jan Broer on Oct 05, 2007
The first DRSD (Dutch Rolex Sun Day) 2007 was a great success! It was held on the 30th of September at a superb location for a number of (about 25) people of the Dutch Rolex Forum. The organization of the DRSD welcomed all visitors (I was there as well) with Bollinger champagne and incredible good food!
The DRSD showed that the Dutch have a lot of great Rolex watches in their collections. The vintage Double Red's, Rail Dials, Red Subs, 1675s were in good condition. My personal favorite was the very rare ref.6262 Daytona Cosmograph from 1970 and the all-white 1665 Sea-Dweller. As for new Rolex models, almost ever model was present! ?Ǭ†Aside from the sports models, also a great share of (vintage&new) Date-Justs, Day-Dates and Oyster-Quartz models rocked DRSD.
A link to more photos?Ǭ†is located?Ǭ†below, but I already will reveil the final table shot!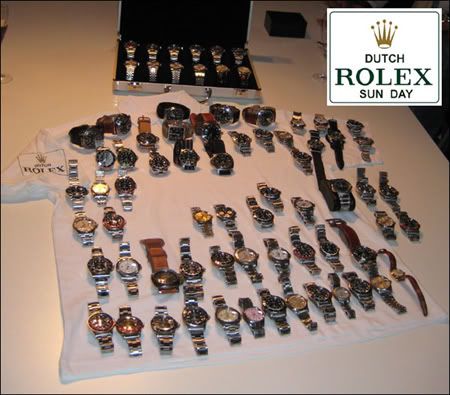 Rob, Stanley, Misha and ofcourse Isabel.. thanks for a great and exciting day for Rolex aficionados.
For the +400 pictures taken by a professional photographer, click here: http://www.rolexforum.nl/drsd