1Posted by Robert-Jan Broer on Dec 28, 2007
Squiggly got my attention before, but I've recently noticed (I am not that much of a Swatch collector) that they have a Swatch Forum besides their Squiggly Swatch Store. The forum is visited by Swatch enthusiasts from all over the world and besides the 'generic' Swatch talk, there is a lot of interest in identifying all kinds of Swatch models.
What I also noticed about Swatches is, althought that they are plastic, battery operated, quartz driven and (normally spoken) disposable watches, most people seem to like them (or the brand). Even the sophisticated mechanical watch collectors seem to have respect for the brand that invented this Swiss made watch in 1982. Perhaps it has something to do with their investments back in the 80s in brands like Omega, Blancpain, Breguet and so on. Otherwise the watch branch would have probably looked totally different than today. Personally, I have my share of Swatches as well. Mostly 'specials' or 'collectors editions', except for the ones that I got or bought in the late 1980s and early 1990s. In 2006 I bought the Swatch-clopedia with all models from 1982 till 2006. It is great that these watches get documented that well!
If you are looking for that Swatch you had in 1989 and lost it somewhere, check the Squiggly catalogue. They might have it! Squiggly also carries catalogues from various years, packaging, display materials, the Swatch-clopedia, spare straps, Swatch bijoux etc etc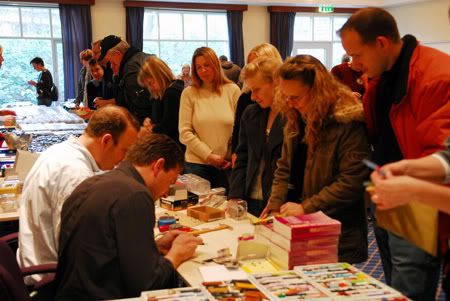 Photos of the Swatch Fair in Dortmund