2Posted by Robert-Jan Broer on Oct 05, 2008Tags: Mondani, Vintage, Watch Book
Rolex doesn't seem to make too much noise about their 100 year anniversary, but Guido and Franca Mondani do! Yet another great book from the famous publisher Mondani is this "100 Years of Rolex"-book, written by himself and his wife.
This book covers the Rolex-story (about founder Hans Wilsdorf and the Heiniger-family who are running the Rolex organization since 1963) from 1908 till now, including the introduction of the Rolex Deep Sea-Dweller during the Basel fair of 2008. The book covers all important Rolex watches of the last century by publishing great detailed photographs of these watches, where Mondani also favors Rolex collectors by putting much effort in capturing details of bezels, bracelets, boxes and papers. All texts in this book are in Italian as well as in English.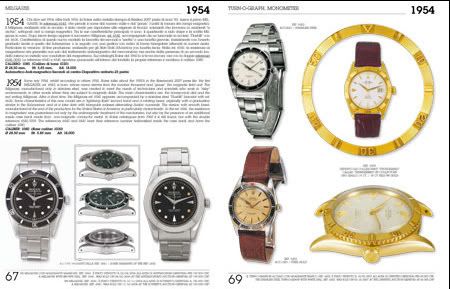 As the pictures above and below indicate, the book has a nice and almost complete overview of watches that were introduced in a certain year. Besides that, the book comes with a smaller booklet with estimates of modern and vintage Rolex wristwatches. Additionally, Rolex dealers (authorized and unauthorized) placed ads in this booklet which might be usefull when you are planning to buy or sell your Rolex timepiece. Our own blog sponsor SubGMT is also listed in this section.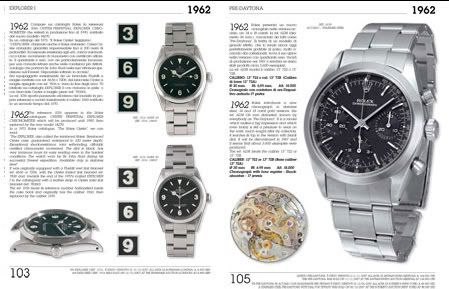 This book is limited to 4000 pieces, which makes it even a nicer 'wannahave'. Gone is gone I guess and I am more than happy to have my copy. It is a nice addition to Mondani's 'Collecting GMT-Master watches' and 'Collecting modern and vintage Rolex watches' books, but certainly interesting when you don't have either of these books. 100 Years of Rolex covers all watch series produced by Rolex, either vintage or modern and is very up-to-date.
SubGMT sells 100 Years of Rolex (over 340 pages and an extra booklet with collectors price guide) for the special price of 299 Euro (normally 350 Euro)!
Click this link if you are outside The Netherlands. SubGMT is a trusted party for all your (modern and vintage) Rolex purchases.