10Posted by Robert-Jan Broer on Oct 20, 2008Tags: Apollo, Moonwatch, NASA, Speedmaster Professional
Omega has this almost annoying habit of introducing Limited Edition Speedmasters for about every event. However, try to get a NASA patch model (such as the Snoopy Award edition or any of the Apollo 11 editions) and you probably feel stupid for not see that one coming
Speedmasters are, besides being linked to the NASA programme, also connected to racing. Initially, the Speedmaster was created as the watch for car drivers, as you can see on the picture below (pre-NASA programme).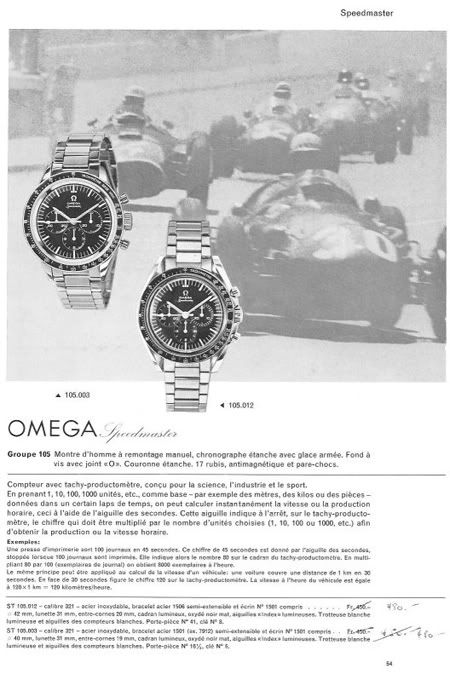 In 1968, Omega even produced a Speedmaster Professional with a so called 'racing'-dial. Not to be confused with the later 1970s Speedmaster Professional Mark II with racing dial. This 145.012 (1968) model is printed in the Time Capsule (by Imai) book and in the Omega Journey Through Time book (page 604 in the English version). I found a low-quality picture of this particular model somewhere on the web, so forgive me for being unable to credit and being unable to provide you with a better picture:
This was the first and last Omega Speedmaster Professional with a racing dial. Later on, as I wrote before, a Speedmaster Mark II was equipped with a racing dial and muchos later on, Omega introduced the Speedmaster Reduced series. These series were focussed on Racing as well. Just recently, when the Omega – Schumacher connection was established, Omega started to create some 'Racing' / Schumacher Legend models with caliber 3303 (Broad Arrow caliber). However, non of these are marked as a 'Professional' model.
In 2004, Omega produced a limited number of 2004 Speedmaster Professional (ref. 3570.40.00) watches with a racing dial. Compared to the original 145.012 with racing dial, the hands are 'inverted'. The hour and minute hands are orange of the Japanese model, as where the original model's hour and minute hands are white and the chronograph hand is orange. The same goes for the hands of the chronograph subregisters.

Pictures by JK.
If you are a Speedmaster collector, this piece might be missing in your collection, as I think 2004 pieces are really limited. I wonder how many actually left Japan, as Japan is a Speedmaster-collectors country. There is currently one for sale on Chrono24, for approx 3000 euro.
I hope you don't get tired of my Speedmaster posts and rants..