2Posted by Robert-Jan Broer on Nov 11, 2008Tags: watchforum, watchportal
"Sigh. Another watch forum?". Yes. Although Perpetuelle is more than just a forum on watches. On Perpetuelle you'll find a nice on-line library containing a lot of watches with their technical specifications. It is like having your Armband Uhren Katalog online. The forum part consists of a number brand forums, but also a generic watch forum, a forum on vintage watches, a diving watch forum, a ladies watch forum and a forum for watch techies. The atmosphere is very refreshing to be honest, at least when you compare it to the big watch portals where reading the disclaimer before you post is mandatory.
Another great feature is that you can fill a virtual watch box with the watches you have or want to have in your collection. This way, people can see which watches you have, which specs they have and what you think of it (by adding a review for each watch). You can also define a 'wish list', so if you are looking for that special vintage Universal Genev?ɬ© tri-compax chronograph or a Breitling Navitimer for example, you can make that clear by putting these watches in your wish list. Other who might know where to find one or even have one, can contact you
The design of Perpetuelle is refreshing. In most cases, 'designed' websites have to make sacrifices with respect to useability, but Perpetuelle has done a great job and enables you to have a good 'overview' at all times. Have a go and see if they can become your new (or second) online watch home.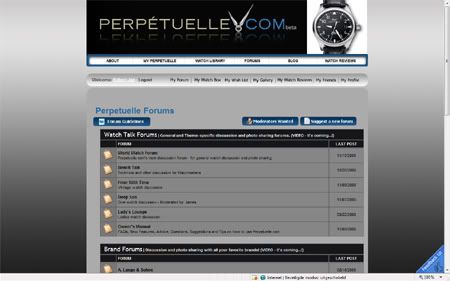 Oh yeah, their brand forum includes, besides the Swiss and German brands, also Seiko! Given the fact that Seiko is gaining more and more enthusiasts amongst watch collectors, this might be a good place to have a look at.