7Posted by Robert-Jan Broer on Jan 06, 2009Tags: Ballon Bleu, Design, Santos
Starting on the 19th of January, the annual SIHH is being held in Geneva. The SIHH, Salon International de la Haute Horlogerie, represents a number of fine watch manufacturers like Audemars Piguet, Officine Panerai, Jaeger LeCoultre, Vacheron Constantin and a few more. One of them is Cartier. Cartier once started out as a jeweler and in the 1900s, it was one of the first to create a wrist watch. I think everyone knows (or should know) the Santos-Dumont story.
Anyway, I didn't classify Cartier as being a haute horlogerie brand for a long time. I just recently became interested in the brand, after talking to Treo. Treo is the owner of a dedicated Cartier website called Troisanneaux. After talking to him, I ordered the book 'Cartier – The Tank Watch'. This watch is to me, the classic rectangular wrist watch.
One of the more recent Cartier models is the Ballon Bleu watch. I was actually quite stunned by this model and I still don't know if it's a gents or ladies watch. With 42mm, I assume it is the first one. However, and this goes for most Cartier watches, there is an ETA movement ticking inside. Although I think that these ETA movements have proven themselves over time and can be qualified as reliable and sturdy movement, it bugs me a little bit that these expensive Cartier watches have an ETA movement inside. Perhaps I am still one of the few who is bothered by paying more than x Euro for an ETA driven wristwatch and is it becoming silly, I don't know ;). What I do know, is that the design of these Cartier watches, the finish of the dials and the beautiful (and typical) crown are compensating for this.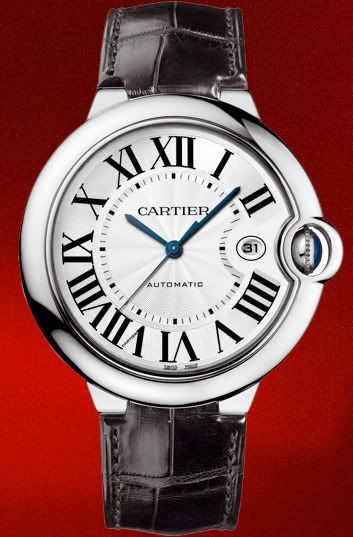 The design of Cartier watches is almost indisputable. Wonderful created cases, most of the time in precious metals like white gold. Guilloche dials with stunning designs. These watches are like art :). But given the fact that movementwise, these watches are hardly any special, would you buy one just for the superb design? If the price is right, I probably will add a Cartier Santos Galbee in my collection in the (far) future. It is the classic rectangular watch imho.
Do you consider Cartier watches as jewellery or as haute horlogerie? Please share your thoughts with me by clicking on 'Comments' below.