6Posted by Robert-Jan Broer on Jun 09, 2009Tags: Ingenieur, Plastiki
The green production process of the watch manufacturer in Schaffhausen, is something to be proud of. Not only IWC, but a lot of other companies seem to embrace durable entrepreneurship and corporate social responsibility. One of IWC's projects is to support projects like David de Rothshild's Plastiki Expedition. David de Rothschild and his Adventure Ecology organization built a 60 foot catamaran made entirely of plastic bottles, PET plastic and recycled waste products. With this ship, named the Plastiki, David and his carefully picked crew members will sail approx. 10,000 nautical miles across the Pacific Ocean from San Francisco to Sydney.
The name of this boat, Plastiki, was inspired by the famous Kon-Tiki expedition in 1947, lead by Thor Heyerdahl.
To 'celebrate' (and make some money of) this joint venture between IWC and David Rothschild, IWC launched the IWC Ingenieur Automatic Mission Earth Edition (Limited Edition). There will be 1000 pieces of this special edition Ingenieur Automatic. The Mission Earth watch has been covered here earlier this year, right after the SIHH 2009.
I have to get one thing of my chest immediately, I LOVE the fact that IWC didn't put a transparant case back on this watch. That does NOT belong on an Ingenieur watch. I suspect that they have a stainless steel case back installed in order to get the engravings and inscriptions right, but still… A watch that is famous for its anti-magnetic construction should not be transformed into a 'fashion' watch.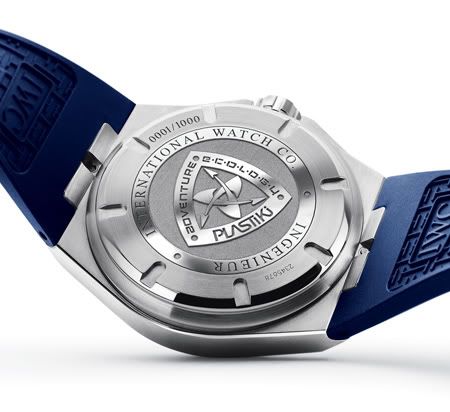 If you take a look at the picture above (by IWC press), you will also see another neat feature. The inside of the strap has the same little shapes as the dial of the Ingenieur. Way cool! The engraving in the back is nice as well, optical finish is something you can leave to IWC for that matter. The Adventure Ecology and Plastiki inscription is very futuristic, matching perfectly by the further design and 'joint venture' reason of this watch.
Inside this watch ticks IWC's inhouse caliber 80110 movement. Some people might think that this is just a de-chrono'ed ETA (Valjoux) 7750, but that's not the case. I have written an article on that subject about a year ago which you can find by clicking here. The case of this watch has a 46mm diameter (similar to the BIG Ingenieur) and a height of 15mm.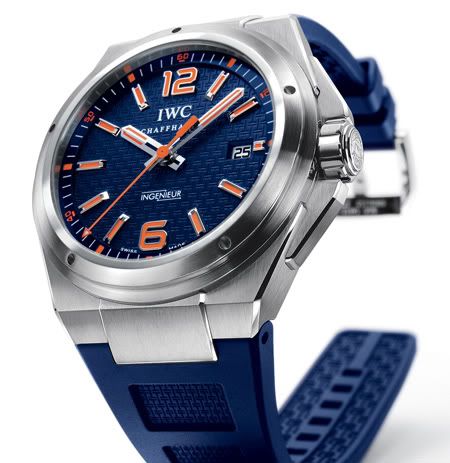 As you can see above, the watch is very blue-ish, reminding me a bit of the Jacques Cousteau Aquatimers IWC launched in 2004. This blown-up version of the regular IWC Ingenieur ref. 3227-01 (discontinued in 2009) has two major differences in comparison to the 'original' IWC Ingenieur Automatic, except for the colors and the size. These are the crown guards, which were applied to the IWC Ingenieur Chronograph, but not on the regular 3227-01 version. Owning one myself, I can't say the absence of it bothers me, but I can imagine the 'request' for them. The other major difference, and this is actually only easy to witness when you have the Mission Earth in your hands, is the lack of sharpness on the edges of the casing. I have held this watch in my hands during the Dutch IWC show over at Ace Jewelers, not too long ago, and this was the first difference that I noticed about the watch when holding it. Therefor, this watch has a completely different feel (at least to me).
So, in conclusion, what do I like about this watch and what's not to like. The design is still intact despite the supersizing and the addition of crown guards. The stainless steel case back (instead of a transparant case back) is also a pro. Then of course, for the techies, the movement is a nice inhouse caliber with IWC's Pellaton winding system. These movements are quite accurate as well, adopting IWC's own standards for this, instead of using the more generic COSC standards.
When this watch will be worn on a daily basis or as 'your only watch', the colors are a bit too much I think. I also think the blue strap could be seen as 'looking cheap' for many. However, to me, the major setback is the lack of sharp edges of the case. The design of this watch is so incredibly cool in my opinion, and it should feel as it looks. Sharp. And it doesn't. If you remember my review on the Audemars Piguet Royal Oak 15300 that I wrote recently, you know how much I care about the 'feel' of watches with a design like these.
With a list price of a mere 9K USD and the fact that there are some cons about this watch, I am happy that I have the discontinued (that has been produced from 2005 till now) 3227-01 model. A tribute to the original SL1832 Ingenieur in my opinion, without losing its own identity. It is cheaper too, and I really don't see why the Mission Earth has to cost more. It makes no sense to me.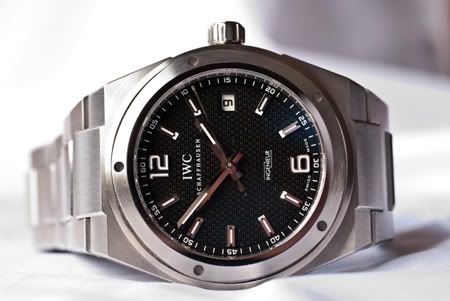 So I guess I can keep the 42.5mm Ingenieur Automatic with its stainless steel bracelet without feeling the urge to do (yet another) trade for something new. Of course, I don't want to sound to negative, the Mission Earth is still a fine watch, but for this kind of money I want a watch exactly right and to my taste, and it's not.