5Posted by Robert-Jan Broer on Oct 19, 2009
For IWC, 2009 is the year of the Aquatimer relaunch. IWC's first Aquatimer saw daylight in 1967 and I doubt that one of these first models ever saw some water, because they didn't look very water resistant. However, looks might be deceiving because IWC claimed it to be water resistant to 200 meters. Anyway, between 1967 and now, IWC has had several sports watches (GST, Ocean, Aquatimer) suitable for use below the surface.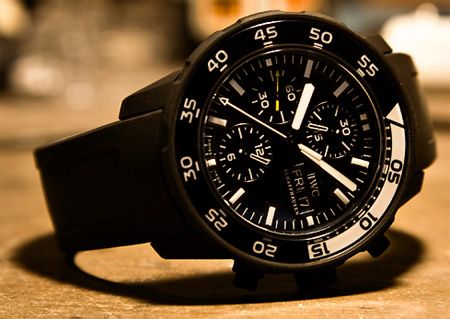 The new line of Aquatimers have been presented at SIHH 2009 and a number of jewelers organized introduction events for their customers (click here for the Ace Jewelers presentation earlier this year). One of my personal favorites this year, is the IWC Aquatimer Chronograph Edition Galapagos Islands, or perhaps it is easier to remember IWC's reference number 376705. A diver's watch in the service of evolution, as IWC calls it.
With this time piece, IWC supports the work of the Galapagos-based Charles Darwin Foundation with a contribution generated by the sales of the IWC ref.376705. The Galapagos islands – belonging to Ecuador – have a unique fauna and flora which is being threatened by harmful activities (like fishing, importing animals, growing tourism etc.). IWC wants to support the Darwin foundation, who makes visitors aware with ecologically sound behaviour and watches out over the waters of the Galapagos Islands to make sure animals do not fall victim to poachers and predators.
This kind of support perfectly fits into IWC's philosophy about durability and responsibility towards the environment. Although I am not a dedicated fan of IWC's watches, I do cheer IWC's management for embracing these kind of activities and 'taking responsibility'.
As for the watch itself, it is no different from the other new Aquatimer watches by IWC, except for the used materials and the engraving on the caseback. The 376705 has a rubber coated stainless steel case and a black rubber strap. The caseback is engraved with the Galapagos tortoise and the text "Tribute to the Charles Darwin Foundation". The photo below, clearly demonstrates the stainless steel caseback with the engraved tortoise.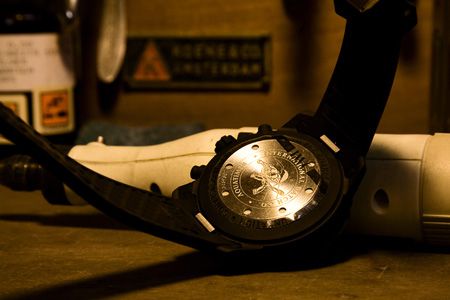 The Aquatimer Chronograph Edition Galapagos Islands has a diameter of 44mm, which is more or less considered normal these days, for diving / sports watches. The height of the watch is 15mm. Like any other serious diving watch, the ref. 376705 has a screw-in crown and rotating bezel. Ofcourse, this watch is perfectly suited for professional diving since it is water resistant to 120 meters / 12 bar. IWC also made this watch very well readable in the dark, by applying luminescent elements on the hands, dial and bezel.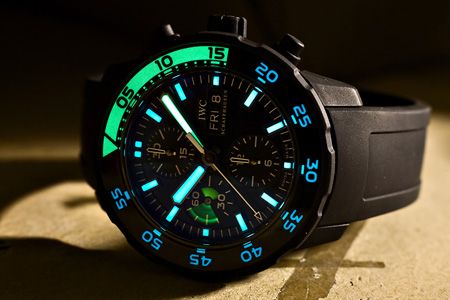 And one more for the lume freaks, I know you are out there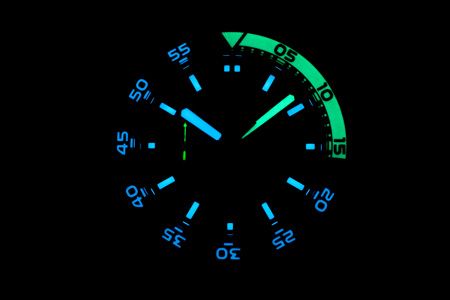 The chronograph movement is IWC caliber 79320, and as you probably already noticed about the chronograph/dial lay-out, it is indeed based on ETA's (Valjoux) 7750 movement. This chronograph movement with an impressive track record has been heavily modified by IWC to live up to their high standards of watchmaking. Although there is technically speaking nothing wrong with this movement, I actually hoped that IWC would have used their in-house chronograph movement (used in the current line of Da Vinci models).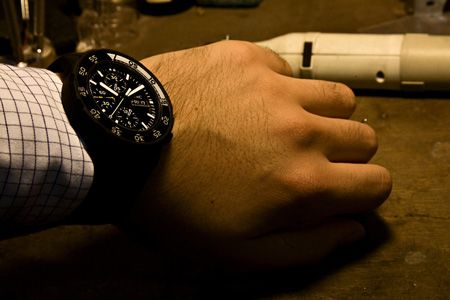 Below you'll see the Galapagos Islands special edition IWC review by Alon Ben-Joseph, vice president of Ace Jewelers in Amsterdam. More watch related videos from them can be found at www.acejewelers.tv.
The IWC Aquatimer Chronograph Edition Galapagos Islands has a list price of 5700 Euro. Visit the e-boutique of my friends over at Ace Jewelers to get more information on this particular watch or other IWC watches. They are authorized IWC dealer and the first that have been approved by IWC to carry watches (and prices) via their e-boutique.
Special thanks to Dimer van Santen of Ace Jewelers for providing me with some custom photographs of the Aquatimer.