1Posted by Robert-Jan Broer on Oct 18, 2009Tags: NATO, strap
A few months ago, I wrote about the non-fitting NATO strap on James Bond's watch in the Goldfinger movie (click here for the article). I also stated that I really don't like NATO straps on Rolex watches.
Still from Goldfinger
In one of the comments by Dell Deaton (THE James Bond watch authority), he more or less wrote me that I shouldn't be so harsh on NATO straps "Live and let live". Perhaps he was right, as I got a few NATO straps a few days ago from UK Watch Strap and I am slowly getting used to wearing such a strap on my t-dial Rolex Sea-Dweller.
The straps start at 5.99 UKP (add one pound for the striped models) and are of excellent quality. Attaching them is a piece of cake and they feel quite comfortable. In length, the strap is 260mm excluding the buckle. There are 12 holes starting 18mm from the end and spaced every 7mm. Space between second and third rings 78mm. The only thing I really had to get used to the first two days, is that the weight of the watch itself.. with a bracelet, the weight is a bit better in balance. Even with a leather strap – which is heavier than this nylon NATO strap ofcourse – the weight of the watch and strap are a bit more in balance.
Anyway, for 5.99UKP (or 6.99UKP for the striped model), it is definately worth trying out!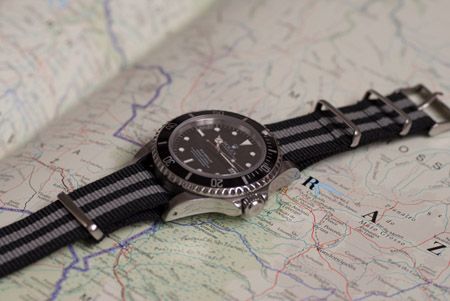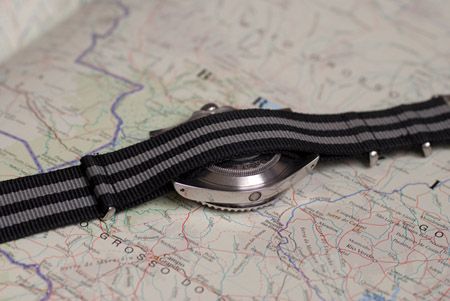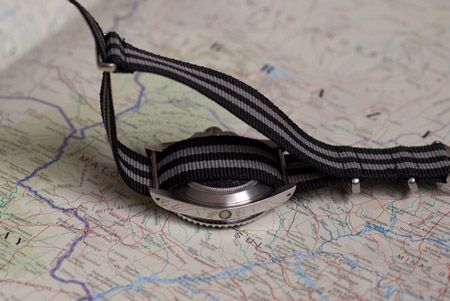 The last picture I took clearly demonstrates how the NATO strap is attached to the watch. You don't have to remove the spring bars when attaching or removing the NATO strap, however, initially you do need to remove the Oyster bracelet of course.
Go ahead and try it yourself and order a NATO strap from my friend Nick at UK Watch Strap.