2Posted by Robert-Jan Broer on Oct 13, 2009Tags: 15202, 15300, Jumbo, Royal Oak
Ever since my early days (mid-nineties) of exploring the watch universe, I have a lot of love for Audemars Piguet's Royal Oak. The Royal Oak Jumbo (15202ST) being too expensive, and the normal Royal Oak's being too small with their 36mm (and too expensive at that time as well), the year 2005 suddenly brought some hope. In that year, Audemars Piguet introduced a new Royal Oak date model in stainless steel, with an in-house movement caliber 3120. AP used a movement based on JLC 889/1 movement till then, for its regular Royal Oak date model. This new model, with ref.15300 had a case diameter of 39mm. Almost the same size as the Jumbo 15202ST, only a bit thicker because of the movement construction. The Jumbo uses a very flat movement, due to a different construction of the rotor which makes the entire watch almost 1mm flatter. Which is a lot of course, in horological context.
Anyhows, as you might know, Audemars Piguet is a brand that can be bought with some discount (with the exception of some limited models and the famous Jumbo) and the price difference between the regular stainless steel Royal Oak and the Royal Oak Jumbo is pretty significant. Also, you might be attracted to the more updated (thicker) bracelet, the screwed-down crown and long hour markers a bit more. On the other hand, the movement of the Jumbo is beyond special.. so if you have a weak spot for the caliber 2121 it is going to cost you serious money.
Enough tech-talk. My watch friend Michael was instantly in love with the Royal Oak after seeing the Royal Oak Jumbo model on the wrist of another watch friend of mine, during our trip to a watch fair in D?ɬºsseldorf. Just like me, Michael fell in love with the regular Royal Oak ref.15300ST and when one of these beauties crossed his path, he pulled the trigger on it.
Yesterday, I received a few photographs of his Royal Oak 15300ST. He has it for quite some time now, but finally got himself a decent photography set-up. For me, the pictures he took capture the true essence of the Royal Oak. Simple and yet sophisticated, stylish and yet sporty at the same time.
Enjoy!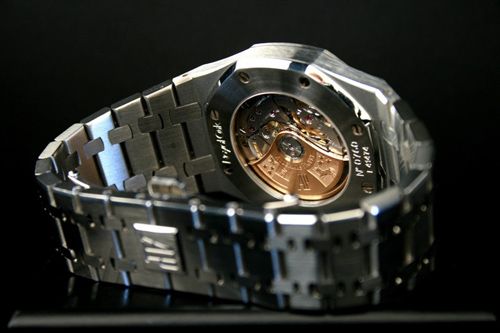 (c) Photos by Michael