27Posted by Robert-Jan Broer on Nov 30, 2009Tags: 116660, 16600, 16660, Deep Sea, Sea-Dweller
I have to be honest, I don't like the new Rolex Sea-Dweller Deep Sea very much. It is not that I dislike the inner ring that everybody is talking about, with the Sea-Dweller subscription, it is the size of the watch and the rather 'small' bracelet attached to it. Perhaps the watch has to grow on me, like the GMT-Master IIc (ref.116710) and the Milgauss (ref.116400(GV)) did in the meanwhile. I happen to like these last two a lot actually. So who knows, I might be able to like the Rolex Sea-Dweller Deep Sea in the (far) future as well.
However, I do not seem to be alone with regards to the new and [technically] improved Sea-Dweller Deep Sea 116660. The former Rolex Sea-Dweller ref.16600 (pictured above) is very hot at the moment, perhaps hotter than it ever was. Some unauthorized dealers have been buying the last produced Sea-Dweller ref.16600 time pieces ever since the introduction of the Deep Sea model, and it is paying off. The last known catalogue (or list) price was 4870 euro.
If you take a look at the small graph above, captured from the famous R-L-X Sales website, you'll notice that in the last 2 years the average price of a Rolex Sea-Dweller ref.16600 (new & used) has grown towards the last known list price. Normally, [even] a Rolex sports watch in steel can be had with some discount, with the exception of newly introduced models or the famous Rolex Daytona ref. 116520. The last unofficial price for a Rolex Sea-Dweller at an unauthorized dealer – when the watch was still in production – was between 3950 and 4200 euro (list was 4870 euro). I know, because a few of my sponsors (see banners) are heavily into new & vintage Rolex watches.
On the Dutch Rolex Forum, new & unworn Rolex Sea-Dwellers (ref.16600) that are probably from the last batch of this model, are going between for 4650 euro and others have them on sale for even a bit more…(4950 euro at JKWatchStore).
On watch market portal Chrono24, the ref.16600 Sea-Dwellers are offered – depending on condition, age (tritium or luminova) and whether it comes with box & papers – between 3000 euro and 5500 euro. So, if you'll do your best to get one for a price that is somewhere between 3000 and the last offered new & unworn models, I think you have a mighty good watch with classic appeal that will suit almost everyone's wrist.
My own Sea-Dweller (1997) was one of the first watches I bought from the salary (= salaries) of my first job after college in 2003, and I still enjoy it a lot! I really tried the Deep Sea but it doesn't appeal to me as much as the former Sea-Dweller model. The Sea-Dweller ref. 16600 seems to be a more civilized watch in comparison to the Deep Sea ref. 116660, which is a funny thing, since when I bought mine in 2003, it was regarded bulky and very 'present' on the wrist.
In fact, I can't believe Rolex made such a giant leap (for Rolex, not mankind) from the former Sea-Dweller to the Deep-Sea model. One of the few things that give me hope for a more in between model, is that they went from reference number 16600 to 116660 instead of using 116600. Will there be a 116600? No one knows, only Mr Meier perhaps, CEO of Rolex.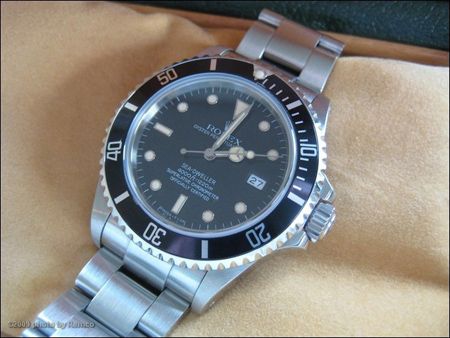 Also, if you want to go a step further back in time, you can also opt for a Sea-Dweller ref.16660 a.k.a. 'Triple Six' Sea-Dweller. Rolex collectors like to talk about 'transition models' when they discuss the GMT-Master 16750 & 16760, Submariner 16800 and the Sea-Dweller 16660 also belongs in this list of transition models. Produced in the mid-eighties, the Triple Six Sea-Dweller is considered to be neo-vintage and a soon to be vintage anyway. If you are going to invest time in looking for a pre-116660 Sea-Dweller, you might want to look into these as well. The above pictured ref.16660 Sea-Dweller belongs to Remco, well respected Dutch Rolex Forum member from the first hour with a passion for (vintage) Rolex. As you can see, the tritium hour markers and hands show nice patina (the yellow-ish or vanilla color due to a proper ageing process) and the case and bracelet are in superb condition.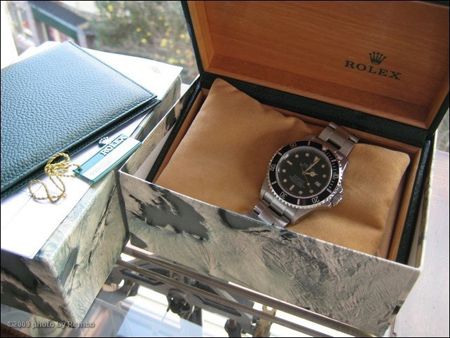 Complete with box and papers, expect to pay some more than the later ref.16600 model with tritium or the ones with luminova dials of course.
To cut a long story short, if you want to have this classic looking Sea-Dweller, ref.16600 or ref.16660, I think you should consider acting now, before they leave the collector's market at all. The ref.16600 Sea-Dweller didn't become very popular until 2007/2008 for the big [watch] public, so chances are big that there aren't THAT many of them around (in comparison to Submariners). Especially the Triple Six Sea-Dweller from the 1980s (with caliber 3035 instead of the later 3135) and the later 16600's with tritium dials will probably going to fetch some higher prices in the near future. Rolex started using luminova dials in 1998 with respect to the Sea-Dweller.
Let me know your thoughts about the former Sea-Dweller and the current 'replacement', the Sea-Dweller Deep Sea. Click 'comments' below to do so.