1Posted by Robert-Jan Broer on Nov 25, 2009Tags: Cosmograph Daytona, Daytona, Everose, MotoringExposure
As of today, I participate in MotoringExposure.com, a website for those who are passionate about super cars. Although I am pretty sure I will never own one of these wheels myself, I do like to read about them. The MotoringExposure team thought that their readers might be into watches as well, haute horlogerie to be precise. I think they might be right, since the love for mechanical watches and (special) cars seem to go hand-in-hand. How often have you seen the car & watch analogies on dedicated websites and forums? And how many watch brands do look-up their own car brand to be connected with? Aston Martin and Jaeger-LeCoultre, IWC and AMG, Officine Panerai and Ferrari, Oris and BMW F1, Audemars Piguet and Maserati, Tudor and the Porsche Motorsport… just to name a few official ones.
My participation in MotoringExposure.com is writing about timepieces. Not only the ones that have a car-connection, but the ones that could make the hearts of car passionata tick faster. The first article is about the watch that is definitely known amongst MotoringExposure readers, the Rolex Cosmograph Daytona. Seen on the wrist of Paul Newman (Winning) but also on the wrist of the winners of the 24 Hours of LeMans.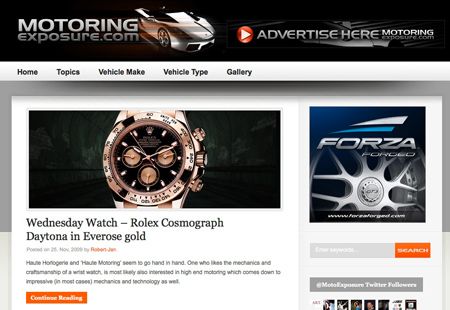 The Everose gold version (ref.116505) of the Rolex Daytona is really something special in my opinion and might perfectly fit the wrist of a super car owner. Even if his or her interested in watches is only limited, you can't go wrong with a Rolex chronograph ofcourse!