3Posted by Robert-Jan Broer on Jan 07, 2010Tags: Caliber 1120, Historique, SIHH2010, Ultra-Fine
The SIHH 2010 will be held from the 18th of January till the 22nd of January 2010. During this show, Vacheron Constantin will be presenting their new Historique Ultra-Fine 1955 and 1968 time pieces. In today's world of horology, it seems that watches can't be bulky enough while a few decades ago, it showed true craftsmanship when a time piece was as flat as possible. Since a year or so, I noticed that there is quite a number of fellow watch collectors and aficionados that is akin to reduce diameter sizes and heights. Vacheron Constantin is the brand they'll need to take to look at in 2010, with their Historique Ultra-Fine timepieces.
In the 1950s and 1960s, Vacheron Constantin introduced the world's thinnest wristwatches and today, they revive the quest for ultra-thinness with the Historique Ultra-Fine 1955 and 1968 models. The 1955 model represents a round case ultra-thin watch with a caliber 1003 movement, only 1.64mm thick, making the watch having a total height of just 4.10mm. This results in the Ultra-Fine 1955 being the thinnest watch in the world. The mechanical manual winding movement is based on the original caliber 1003 from 1955, but rebuilt in 18ct gold and bearing the Hallmark of Geneva.
This Hallmark of Geneva can only be applied when the movement complies to 12 technical and style criteria which are outlined on the Vacheron Constantin website (click here to visit the Hallmark of Geneva section). Below is a picture of the rebuilt caliber 1003 movement in 18ct gold by Vacheron Constantin: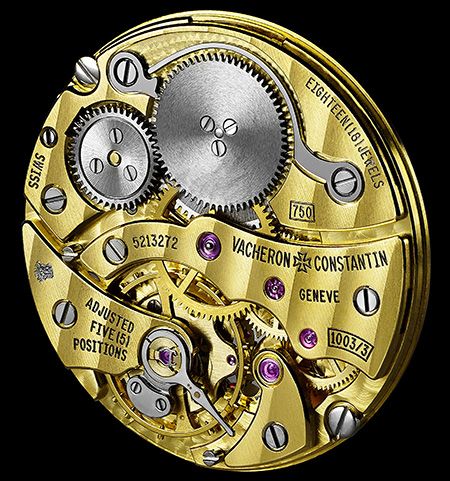 The Ultra-Fine 1968 model is a square case timepiece, using Vacheron Constantin's caliber 1120 movement, as introduced in 1966 and produced since the end of 1967. Below you see a picture of both timepieces. Vacheron Constantin's caliber 1120 movement has been based on Jaeger-LeCoultre's caliber 920. Jaeger-LeCoultre however, never used this movement in one of their own watches. Vacheron Constantin, together with Audemars Piguet and Patek Philippe used the Jaeger-LeCoultre caliber 920 movement in their own watches with their own caliber numbers.
Vacheron Constantin (caliber 1120) and Audemars Piguet (caliber 2121) are the only manufacturers to still have these ultra-thin movements in production. Patek Philippe used it (under caliber number 28-255) during the first 10 years of the Nautilus timepiece before switching to a different movement, bearing caliber number 335SC.
All in all, the Vacheron Constantin caliber 1120 movement has somewhat of a cult-status amongst collectors, especially those who love ultra-thin watches or have a weak spot for G?ɬ©rald Genta (designer of the Nautilus and Royal Oak) or Hysek (designer of Vacheron Constantin's '222' which later became the 'Overseas').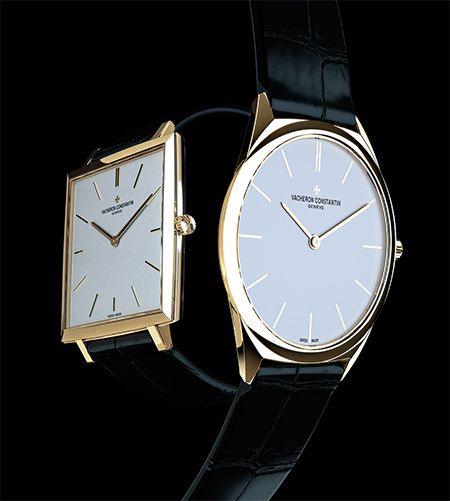 The Ultra-Fine 1955 timepiece is based on Vacheron Constantin's reference 4961 (introduced in 1955) since that particular model already embodied a decidedly modern touch at the time of its launch. The 36mm 18 ct pink gold watch case of the Ultra-Fine 1955 is water resistant to 30 meters and has a transparant caseback using a sapphire cyrstal.
The Ultra-Fine 1968 timepiece is based on reference 7614, also in an 18ct pink gold watch case and measures 35.2 mm along its sides and is even thinner than its historical predecessor: 5.5 mm compared with 6.52 mm, making it one of the thinnest watches in its category (of watches with a self-winding movement).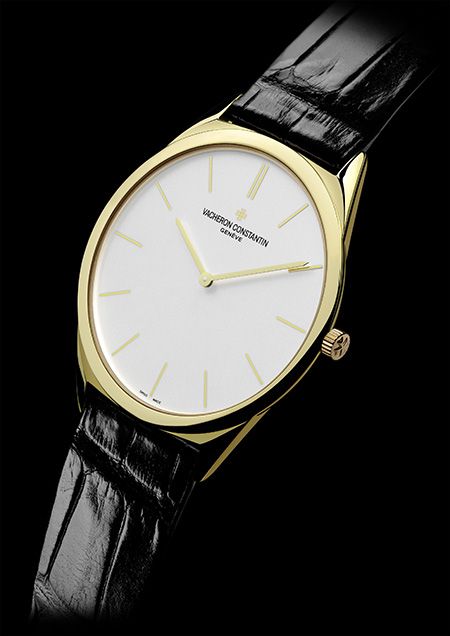 By choosing to equip these Historique timepieces with the same legendary vintage calibres ?¢'Ǩ'Äú the 1003 and 1120 rebuilt for the occasion and now bearing the independent and sovereign Hallmark of Geneva certification ?¢'Ǩ'Äú Vacheron Constantin is shows their authority when it comes to exceptional classic watches.
Click here to visit Vacheron Constantin's offical website and make sure to check out the official Vacheron Constantin forum, The Hour Lounge.
Pictures courtesy of Vacheron Constantin. Thanks to Jenna Guarneri.