0Posted by Robert-Jan Broer on Mar 01, 2010Tags: DLC, GMT-Master
I haven't seen this one before, a DLC Rolex GMT-Master. This neo-vintage Rolex GMT-Master with tritium dial has been treated with the famous Diamond Like Carbon coating by Time and Gems.
The coating on this timepiece is a mixture of polished and brushed parts, which is a bit different from the regular ref.16700 and ref.16710 models. The center links have been polished, as well as the lugs of the watch case. The anthracite colour on the brushed parts is a bit darker than the coating colour on the polished parts, giving it a bit of room to play with the light.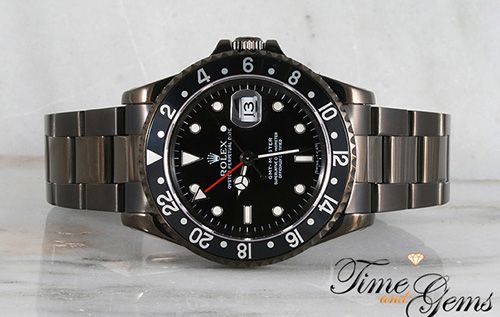 The cool thing about the GMT-Master in DLC edition is that the red GMT-hand stands out. I have seen the newer GMT-Master version (ref.116710LN) in a DLC edition somewhere else, but the green hand didn't do as much magic as this red hand does in my humble opinion.
Time and Gems did a nice job on creating a militarized version of the well respected GMT watch by Rolex. What you can't see on the pictures is the case back, which has been kept in stainless steel. The price tag of 6500 USD (or approx. 4800 Euro) is quite a bit away from the original price of a similar GMT-Master in stainless steel, but the DLC process is still a costly operation.
They have more DLC'ed Rolex models for sale on-line, like a Milgauss GV ref.116400 and a Sea-Dweller ref.16600 and more. I am thinking out loud how a Rolex Date-Just 116200 or a Rolex Yacht-Master 16622 would look like with a DLC coating.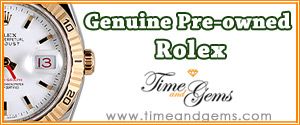 Thanks to Jeff from Time and Gems for the use of their pictures.