2Posted by Robert-Jan Broer on May 31, 2010Tags: Chronograph, Cyma, Valjoux, Watersport
Bas van Dorp, friend of the show for many years now, is always keeping his eyes open for a cool chronograph. He found this vintage Cyma Watersport chronograph from the 1940s in a watch shop in Maastricht, in the southern part of The Netherlands. Cyma is a brand with a history dating back to 1891, however they didn't survive the quartz crisis in the 1970s only to be reborn in 2005. The current Cyma company has nothing to do with the one that stopped about 40 years ago.
Bas's Cyma Watersport is a classic looking round chronograph with a tri-compax dial lay-out, which means it has the sub dials at 9, 6 and 3 o'clock. In my opinion, the perfect chronograph design symmetry-wise. A fairly large watch case of 38mm, at least for that era, makes it perfectly wearable today as well. The dial of this Cyma is in remarkable shape, no real patina (or rust spots) and the printing is still very clear. The hands are red gold coloured as you can see below and mind the the 12 hour totalizer at 6 o'clock that has the shape of curly fries, the regular seconds hand at 9 o'clock has a small tip below the pinion and the minutes totalizer on 3 o'clock again has a different shape. Although I have seen similar Cyma Watersport timepieces with small hands which were all the same, it looks quite original. The use of different small hands was and still is not that unusual, think Breguet TransAtlantique for example. The unsigned winding and time-setting crown seems to be  perfectly original as well.
The sub dials have these amazingly nice circular grains, as found on the Omega Speedmaster (pre-)Professional models as well.
The movement in this Cyma is a Valjoux 72, as used in the famous vintage Rolex (Oyster) Daytona models from the 1960s and 1970s. This hand wound movement has been used for many other watches as well and is known to be a solid timekeeper and chronograph. The late Chuck Maddox found a vintage manual for this movement and published it on his website in 2004, you can find it here. This movement has a beat rate of 18000 bph and a power reserve of 46 hours.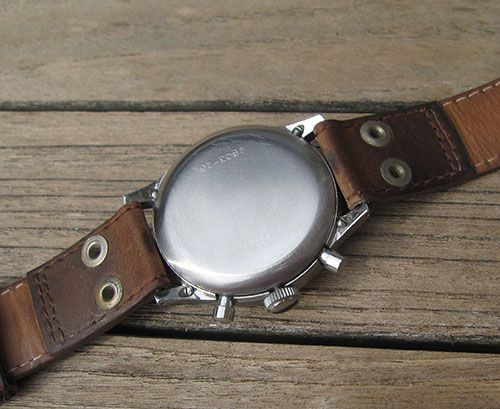 The case back is a snap-on type and has no particular engravings other than what seems to be a reference number of some sort. In the back side of the lugs, you can see a screw in each of them, which probably holds the bezel or movement in place (hard to tell from the exterior).
I don't know why Cyma called this chronograph the 'Watersport', but I can think of it as a watch for the sailing sport. Although it doesn't look very water resistant, it is shock proof (to a certain extent) and timing might be an issue as well in sailing competition.
Bas attached a leather pilot strap from his Stowa watch to this vintage chronograph. Given the size and era of his watch, a good choice.