5Posted by Robert-Jan Broer on Oct 05, 2010Tags: Officine Panerai, Paneristi
On the 1st of July (2010), a prominent member of the Panerai community (Paneristi) introduced a limited edition Panerai PAM 360 model, to commemorate the 10th anniversary of the Paneristi Home Base, www.paneristi.com. A limited edition of 300 pieces only, which is far less than most Panerai production numbers, would be available for members of the Paneristi community. Moderators of the Paneristi community designed the concept of the watch pictured below. A 44mm Panerai Luminor in PVD, painted patina dial, the OP logo on the dial and an inscription engraved in the case back.
Indeed, a great looking wristwatch by Panerai, although I would have preferred DLC and white hour markers instead of 'painted' patina. In the introduction message at the Paneristi website, the price was set to 5.500,- Eur / $6.700,- and those who were interested could address an e-mail to officinepanerai@panerai.com stating their name and contact details. Perhaps even more important, the message also included the following line: "…this watch is dedicated to the members and contributors to Paneristi".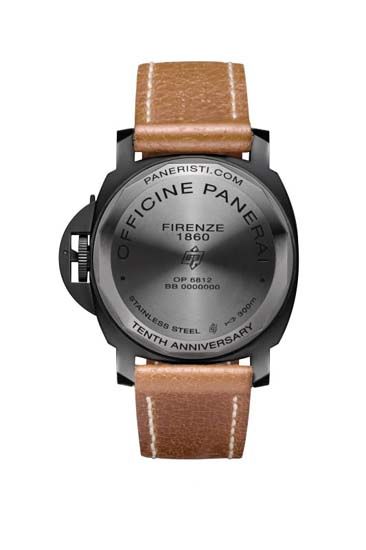 I guess that you and I both know that with only 300 pieces, it will become very difficult to please the thousands of visitors of Paneristi.com. It is being said that more than 2600 people were on the list of potential buyers. Although only a fraction of that number should be considered 'hard core' Paneristi members (or Ristis as they would like to call themselves), a secret list was created to make sure that the VIPs of Paneristi would be able to purchase a PAM360. So far for the equal chances to get this soon to be highly sought-after PAM. The secret list has not been confirmed (yet), but even certain moderators seem to know about one as promises have been made by them to certain Ristis.
However, during the process, a lot of stress has been going on. A lot of unknown Paneristi members started queuing up for the PAM360 and my guess is that the Panerai office didn't know what to do with all these requests. People who signed-up for a PAM360 got the following e-mail from Officine Panerai:
"Dear Sir,
We thank you for your order and for the interest you have shown in our brand.
The Luminor for Paneristi's Anniversary, created to celebrate the tenth anniversary of the forum Paneristi.com, was produced in a unique edition of 300 examples.
We inform you that, having received more than 2,600 orders, it has been possible to fulfil fewer than one out of every eight received.
We are aware that this fact may cause disappointment but the number of watches produced does not enable us to satisfy all the orders received.
We therefore regret to inform you that unfortunately we are unable to fulfil your order.
We thank you and we take this opportunity of sending you our best regards.
Officine Panerai"
In the end, 250 pieces went to the USA and only 50 to the rest of the world (strange, since Paneristi was crowded with Europeans in the beginning). It seems that members who are active for a year or less have (or had) an equal (or perhaps even more) chance on a PAM360 as their fellow members with 10 years of Risti-credits. I wonder what Panerai have been thinking. That there would be only 300 enthusiasts for a watch designed by Ristis? Why didn't they do an in-take before announcing the production number? With over 2,600 orders, they could have set the production number at least to 2,000 (cancellations included).
The disappointment amongst the Ristis was (and still is) huge, a lot of guys that have been on Paneristi since day 1, did not receive a satisfying e-mail from Officine Panerai. For a few days, the whole community seemed to be disoriented about their favorite brand from Italy. Slowly, things are getting better and Ristis start enjoying their P-Day pictures again (which was being held in New York last September). I hope Officine Panerai, Bonati (CEO) and Paneristi Staff have a sit down and discuss the lessons learned for the 20th Anniversary Panerai timepiece.
Personally, given the fact that people knew in advance that there were 300 pieces only, why the huge disappointment suddenly? You could have guessed that this was going the wrong way for the Ristis of the 1st hour. Except when there is/was a secret VIP list of course.