0Posted by Robert-Jan Broer on Mar 25, 2011Tags: Itay Noy, XRay
Yesterday, I've visited Itay Noy and had a look at his XRay collection. Itay Noy is a designer and watchmaker based in Israel and I've been following him since BaselWorld 2009.
The City Squares series of watches which he introduced in 2009 were very interesting, even as the Duality watches. The Duality watches can be worn on both sides (it has two dials). Although a lot of watch collectors like the Duality watches, there was much hesitation to actually buy one because of the quartz movement. This year, Itay Noy re-introduced the Duality with a mechanical movement.
But the watch that immediately drew my attention yesterday, is the XRay model that Itay Noy already announced on his Facebook page.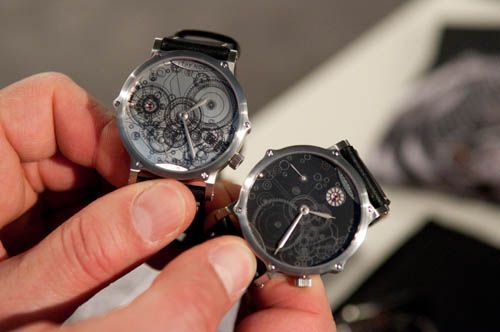 I think it is the first time that a watchmaker used the blue print of a movement to be engraved in the dial, showing the design of the hand-wound Unitas movement beneath it. As always, Itay Noy uses a very soft leather for his straps resulting in one of the most comfortable ones I've ever worn.
More pictures can be found in the BaselWorld forum over at Watchuseek.