2Posted by Robert-Jan Broer on Jul 19, 2011Tags: Beretta, Royal Oak
Dr Franco Gussalli Beretta, one of the Managing Directors of the famous Italian firearms manufacturer Beretta and descendant of the founder, explains in a short interview in FT's HowToSpendIt that his personal style signifier is his watch. An Audemars Piguet Royal Oak watch, to be precise. Beretta's CEO owns several of them and does so since 20 years.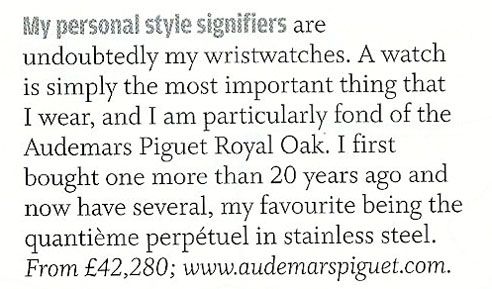 Although I have nothing against using paid-for brand ambassadors, as long as it makes sense for the brand and their watches, I actually think people like Franco Gussalli Beretta are more interesting to read about. He probably paid for these watches himself, unlike official brand ambassadors, and can [therefore] probably tell a much more interesting story why he chose for Audemars Piguet's Royal Oak watch than the others. He could also have picked another watch or another brand for the +40K he spent on his quantieme perpetuel.
Unfortunately, the interesting part for watch enthusiasts stops here in the HowToSpendIt interview. I would have liked to ask him what model he bought 20 years ago and what it is that fascinates him so much about this timepiece that he decided to stick with it, being it in several variations of the famous octagonal design by Genta.
If it's interesting enough, perhaps Audemars Piguet can include an interview with Franco Gussalli Beretta in their upcoming catalogue as they did with Bruno Rubinski in 1999/2000 and inspire new potential customers. Just my $0.02 of course.