0Posted by Robert-Jan Broer on Jul 27, 2011Tags: Chrono24, Facebook
Jaquet Droz, probably the most exclusive brands (at least in numbers) of the Swatch Group, has been documented in this wonderful book by Manuel Emch (Assouline publishers). The beautifully decorated and finished timepieces by Jaquet Droz are a joy to look at and to wear, something I tried during their event in Amsterdam (click here for the report).
My personal favorite JD is pictured above, the enamel dial with the large 8 shaped combination of the two sub dials displaying hours, minutes and seconds. Truly amazing watches, and the new models revealed during BaselWorld with the Chinese lacquer are something special as well. More about that in a follow-up post.
Anyway, you are able to win this book on Jaquet Droz watches, by simply visiting the Chrono24 Facebook page and let them know what you like (or dislike!) about the Chrono24 watch portal. A winner will be picked this coming Friday and the book will be shipped free of charge to his or her address.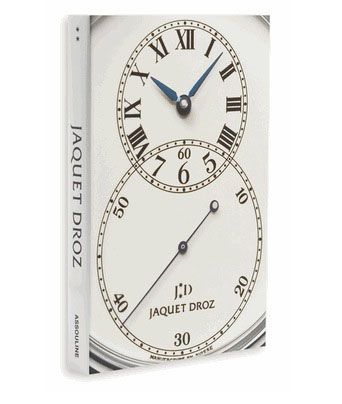 It is a hard cover book in English, over 160 pages on Jaquet Droz and containing 100 beautiful images and photos on the brand. You don't have to register or anything, just visit this link and share your thoughts. It does not hurt to give a LIKE to the Chrono24 Facebook page of course!